(enthält nicht-bezahlte Werbung aufgrund Produktpräsentation )
Nach 2 Jahren Pause (2019 war ich leider verhindert) bin ich dieses Jahr wieder nach Villingen-Schwenningen gereist, zur Hall of Angel's Share. Meine zweite Präsenzmesse nach der spätsommerlichen Whisky-Spring in der aktuellen 'Nach-Lockdown-Zeit. Der Veranstalter Uwe Lauinger (Wein Riegger) und sein Team hatten sich für die 2G-Variante und einen reinen Online-Ticketverkauf entschieden.
Nach der Erfahrung mit der, für mich deutlich zu kurzen, Schicht in Schwetzingen, habe ich mir diesmal gleich je ein Ticket für die Früh- und die Spätschicht des Sonntags gekauft, um die Messe ohne Zeitdruck genießen zu können. Da ich diesmal mit dem Auto anreisen wollte und der Montag ein Feiertag war, wurde auch noch ein Hotel zur Übernachtung gebucht.
Zwei Tage vor der Messe habe ich mich dann noch dazu entschlossen, ein Tasting dazu zu buchen. Meine Wahl fiel auf das Old Pulteney Tasting mit Annick Seiz.   
Am Sonntagmorgen ging es dann, nicht allzu früh, los auf die Autobahn. Nach etwas mehr als eineinhalb Stunden recht entspannten Fahrens, habe ich als erstes das Hotel angefahren, um das Auto abzustellen. Der Veranstaltungsort, die Neue Tonhalle, war von dort aus in etwa 5 Minuten zu Fuß zu erreichen. Eine gute Stunde nach dem offiziellen Beginn der Frühschicht war ich dann an der Tonhalle. Die Schlange an der Eingangskontrolle war überschaubar und die Wartezeit dadurch nicht der Rede wert.
Die erste Aktion auf der Messe war das Abholen des Glases, wieder ein Spiegelau Snifter (ein sehr schönes Glas, wie ich finde), und den Eintausch einer ausreichenden Menge an Messewährung (Chips) zum Bezahlen der Proben an den Ständen (Die Menge war natürlich nicht ausreichend und musste später korrigiert werden).
Wie immer begann meine Messe mit einem Rundgang, um mir einen Überblick zu verschaffen und da wurde auch schon klar, wie gut es war, dass ich beide Slots gebucht hatte.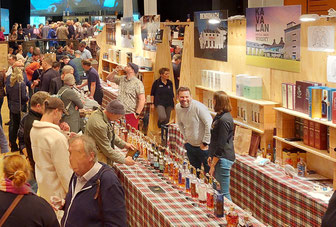 Der erste ausgiebige Halt war am Stand von Schlumberger, wo mir Andrea Caminneci und Hans-Georg Fink eine neue Abfüllung von finch für Schlumberger zum Probieren gaben. Soviel sei gesagt: Freut Euch drauf! Finch German Selection by Schlumberger Madeira 8 Jahre
Weiter ging es mit Penderyn, wo ich von Bastian Denkler Proben von den neuen Abfüllungen mitbekommen habe. Die werden dann zu gegebener Zeit auf meinem Blog entsprechend gewürdigt. Direkt probiert habe ich den ex-Cognac und der löst Vorfreude auf die anderen Abfüllungen aus. 
Direkt nebenan hatte ich eine längere Unterhaltung mit Michael Morris von der Hinch Distillery aus Irland. Der 5-jährige Double Wood konnte durchaus überzeugen. Von Hinch habe ich dann noch ein Preview mitbekommen, einen 12-jährigen Premium Blend mit Amarone Finish (Notes demnächst hier). 
Danach gab es einen kurzen halt bei Thorsten Manus und (nein, nicht St. Kilian) Seven Seals. Unlängst hatte ich ein Probierset von Seven Seals auf dem Blog und hatte mir den Age of Taurus zugelegt. Diesen konnte ich nun auch probieren, sehr interessante Abfüllung (leider hab ich vergessen, mir ein Sample davon mitzunehmen).
Dann war es auch schon Zeit für das Tasting mit Annick. Auf dem Programm standen fünf Abfüllungen von Old Pulteney und wie erwartet ging es bei Annick nicht nur um eine Whisky-Verkostung, sondern um ein Genusserlebnis. Neben dem Whisky waren auch noch ein paar Kleinigkeiten für ein Food-Pairing vorbereitet.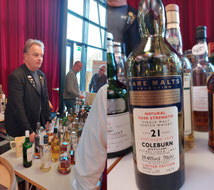 Nach dem Tasting ging es wieder zurück auf die Messe, direkt zum Stand von Dirk Rosenboom und seinen alten Schätzen. Der Coleburn, den ich mir bei ihm einschenken ließ dürfte wohl whiskytechnisch das Highlight der Messe gewesen sein. Leider bekommt man so etwas nicht oft ins Glas.
Anschließend konnte ich bei Petra Milde zwei der Untold Legends aus den diesjährigen Special Releases von Diageo probieren. Der 14-jährige Cardhu und der 8-jährige Talisker durften ins Glas. 
Den letzten Teil meines Messetages verbrachte ich wieder am Stand von Schlumberger, was damit dann eindeutig der Schwerpunkt meines Messebesuchs war. Den Abschluss machte ein 15-jähriger Benromach und ein längeres Gespräch mit Gordon Muir.
Mir hat dieser Messetag in Villingen-Schwenningen wieder sehr gut gefallen. Gute Whiskys, gute Gespräche, interessante und nette Leute. Vielen Dank an Uwe Lauinger und das ganze Team, für die wirklich gut organisierte Veranstaltung. Ich freue mich schon auf das nächste Jahr.