(enthält nicht-bezahlte Werbung aufgrund Produktpräsentation )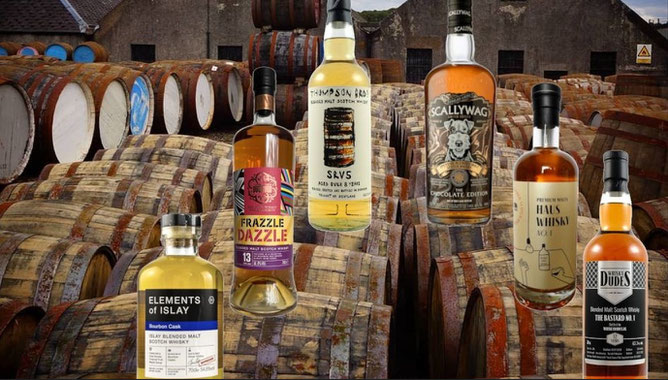 Die Admins der Facebook-Gruppe 'Blended Scotch Whisky' organisieren regelmäßig Online-Tastings, in denen Neuheiten aus der Welt der Blended Scotch verkostet werden. Am 10. Januar gab es die vierte Ausgabe dieser Tasting-Reihe. Im Line-Up waren sechs Blended Malts verschiedenster Art und Hersteller.

Zum Einstieg gab es einen Whisky der Thompson Brothers. Für den SRV5 wurden 8-jährige Malts im Station Road Vat 5 vermählt. Es wurden 800 Flaschen mit 48,5 % Vol. abgefüllt. Der goldfarbene Whisky präsentiert sich der Nase mit einer hellen Fruchtsüße und Zitrusfrüchten. Auch im Geschmack finden sich die hellen Früchte. Dazu kommt noch Vanille, eine leichte pfeffrige Schärfe und dezente maritime Noten. Leider auch leichte Bitternoten. Dieser Blended Malt ist in der Nase hauptsächlich süß, im Mund kommt Würze dazu. Die Schärfe macht ihn ein wenig bissig. (6 von 10 Punkten) - (Whiskybase) 

Den Scallywag The Chocolate Edition von Douglas Laing  gibt es nun schon als Batch 5. Die auf 3.600 Flaschen limitierte Abfüllung wurde anlässlich des World Chocolate Day am 7. Juli herausgegeben. Es wurden ausschließlich Speyside Malts verwendet, die in Sherryfässern lagerten. Abgefüllt wurde mit 48 % Vol.. Die Farbe ist ein dunkler Bernsteinton. In der Nase macht sich eine dunkle Süße breit. Brauner Zucker, zarte Noten von Schokolade und Kaffee und eine ganz leichte Parfümnote. Im Mund werden Kaffee und Schokolade etwas deutlicher. Etwas Pfeffer bringt Schärfe. Die Sherryfässer bringen nur wenige dunkle Früchte. Trotz seinem Namen bringt der Whisky eher Kaffee-Aromen, denn Schokolade ins Glas. (7 von 10 Punkten) - (Whiskybase) 

Auch von der SMWS gibt es einen Blended Malt. Der Frazzle Dazzle Batch 19 kommt mit 13 Jahren und 50 % Vol. daher und erhielt ein Finish in Smoked Barley Wine Hogsheads (obergäriges Bier). Es gab 1785 Flaschen. Farblich ein Bernstein, bringt er eine dunkle Süße von roten Füchten in die Nase. Er erinnert mich ein wenig an die kleinen Kirsch-Lollys von früher. Im Mund kommt zuerst eine cremige, dunkle Süße. Dann wird es würziger, zum Ende hin beinahe adstringierend. (7 von 10 Punkten) - (Whiskybase) 

Premium-Malts in Bamberg hat sich einen Blended Malt kreieren lassen und ihn zum Haus Whisky No. 1 deklariert. Die Whiskys wurden 2007 destilliert und 2021 mit 58,1 % Vol. in 244 Flaschen abgefüllt. Der Whisky zeigt ein dunkles Gold. Sehr intensiv und sofort präsent in der Nase sind Malz und Röstaromen. Erst dann finden sich helle Kernfrüchte, vor allem reife Birnen. Der Alkohol bringt deutliche Schärfe. Auch im und ist der Antritt kräftig. Die Schärfe überdeckt ein wenig die malzige Süße und die aufkommenden wächsernen Aromen. Obwohl in den offiziellen Notes die Birne sehr hervorgehoben wird, finde ich die malzigen Aromen prägnanter und die Früchte eher begleitend. (8 von 10 Punkten) - (Whiskybase) 

Ein bisschen frivol kam der Bastard No. 1 der Whiskydudes aus den Niederlanden daher, zumindest vom Namen gesehen. Die Whiskys sind 12 Jahre alt und wurden seit dem 03.07.2009 im Refill Sherry Casks gereift und erhielten ab dem 16.11.2020 ein Finish im 1st Fill Tawny Port Hogshead Nummer 21A. Am 01.03.2022 wurden 315 Flaschen abgefüllt mit satten 63,3 % Vol.. Die Fässer machen sich schon farblich in Form eines kräftigen Terracotta-Tones bemerkbar. Die Nase bringt ebenso kräftige Sherrynoten und rote Trauben. Dazu etwas Tabak und eine dezente, für mich ein wenig störende, Schwefelnote. Auch der hohe Alkoholgehalt lässt sich nicht verleugnen. Im Mund setzen sich diese Aromen fort, begleitet von Eichenwürze. Eine ordentliche Sherrybombe mit deutlichem Port-Einfluss. Wunderschön, wären da nicht die Schwefelnoten. (8 von 10 Punkten)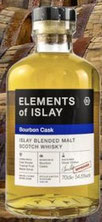 Zum Abschluss des Line-Ups gab es noch einen ordentlichen Raucher. Der Elements of Islay von Elixier Distillers in der Ausgabe von 2022, gereift im Ex-Bourbon Cask und abgefüllt mit 54,5 % Vol.. Farblich ein sattes Gold. In der Nase kräftiger, speckiger Rauch und ausgebranntes Holz. Dazu reife Früchte und hintergründig noch Schokolade. Auch ätherische Noten sind zu finden. Der Geschmack zeigt zuerst Süße. Der Rauch kommt sofort hinterher. Auch Vanillenoten aus den Bourbon-Fässern zeigen sich. Eine schöne Variante eines Islay-Whiskys. Der Rauch ist im Mund angenehmer, als in der Nase. (8 von 10 Punkten) - (Whiskybase) 
Das Ranking der Abfüllungen gesamt und mein persönliches Ranking weichen, bis auf die letzten Beiden, ein wenig voneinander ab.
Das Gesamt-Ergebnis in Plätzen war (meine Plätze in Klammer):
   1. (4.) SMWS Frazzle Dazzle Batch 19
   2. (3.) Whiskydudes Bastard No. 1
   3. (1.) Elements of Islay 2022 Bourbon Cask
   4. (2.) Premium-Malts Haus Whisky No. 1
   5. (5.) Scallywag The Chocolate Edition Batch 5
   6. (6.) Thompson Brothers SRV5
Ein spannender Abend mit interessanten Abfüllungen und angeregten Diskussionen. Ich freue mich schon auf die nächste Ausgabe der Blend-Neuheiten Tastings.