Der Octomore OBA Concept ist/war quasi das erste Experiment des neuen Head Distillers Adam Hannett. Er war nur kurzzeitig über den Online-Shop erhältlich. Bruichladdich selbst sagt auf der Homepage über diesen Octomore: 
We present Adam's Octomore "OBA Concept", a limited distillery release of only 3,000 x 500ml bottles.  
Our story begins at Feis Ile 2016, Adam Hannett's first Masterclass as head distiller. There was a deal of expectation and Adam had indeed something special to share. It was Octomore; but not as we know it. 
 
59.7% - 0.5 l  - 3000 Flaschen - nicht kühl gefiltert  
(Da ich nur ein Sample habe, fehlt mir leider der Digit Code, um mehr über die Fässer zu erfahren.)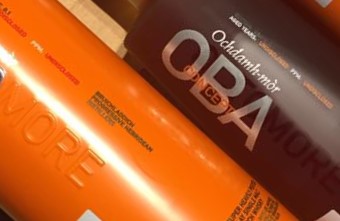 Farbe: Heller Bernstein 
 
Aroma: Überraschend zarter Rauch, eingebunden in eine dunkelfruchtige Süße. Mit der Zeit tritt die Süße in den Hintergrund und leicht angebratener Speck kommt. Zu den dunklen Früchten gesellt sich eine Pfefferminznote mit einem leicht medizinischen Anklang. 
 
Geschmack: Wieder die Süße, diesmal aber eher Honig, mit dem dezenten Rauch. Dann kommt eine kräftige Ingwerschärfe, die nach und nach dem angebratenen Speck Platz macht. Zum Nachtisch gibt es dunkle Schokomousse. Alles mit einem sehr cremigen Mundgefühl. 
 
Abgang: Lang, süß, schokoladig und fruchtig. 
 
Fazit: Ich bin zwiegespalten. Einerseits eine unglaubliche Tiefe und Komplexität. Andererseits fehlt mir doch ein wenig Fülle. Definitiv kein typischer Octomore.