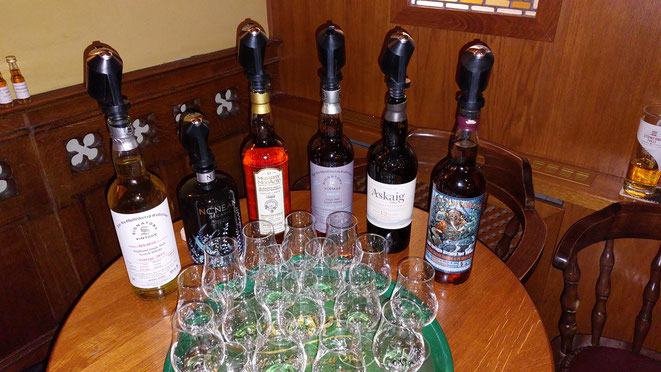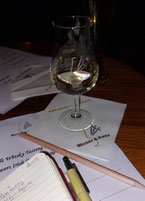 Für den Totensonntag hatte ich mich für ein spirituelles Event angemeldet. Meine Freunde Janina und Boris von Whisky & Pipes hatten wieder zu einem Tasting in den Towers Pub nach Ludwigsburg eingeladen. Dieses Mal ging es hauptsächlich um Abfüllungen, die ihre wahre Herkunft mehr oder weniger zu verschleiern versuchen, denn das Thema lautete 'Whisky in disguise'. Nur die ersten beiden Whisky traten mit ihrem eigenen Namen auf und einer der Beiden war auch eine Originalabfüllung. Die anderen Abfüllungen waren namenlos oder liefen unter Pseudonym.
Der Nachmittag startete mit einer unabhängigen Abfüllung von Ben Nevis. Der 8-jährige Whisky aus der Un-Chillfiltered Collection von Signatory Vintage reifte in zwei Hogsheads und wurde im Januar 2022 mit 46 % Vol. abgefüllt. Er zeigt eine schöne fruchtige Süße. Dazu Malz, Vanille und Honig. Auch leicht grasige Noten finden sich.
Der Nächste war ein Bio-Whisky und klimaneutral hergestellt. Der Nc'Nean aus der Quiet Rebel Reihe ist nach Lorna Davidson benannt, erste Mitstreiterin von Annabel Thomas und Brennmeisterin in der Destillerie. Die süßen und würzigen Aromen zeigen Fruchtsüße und Heidekräuter.
Der dritte Whisky versprach ein absoluter Hammer zu werden. Der Blended Malt vom unabhängigen Abfüller Murray McDavid mit dem Namen King of Casks wurde 1989 destilliert und bringt satte 32 Jahre auf die Waage. Es handelt sich dabei wohl um einen teaspooned Balvenie (landläufig auch als Burnside bekannt). Gereift in Ex-Bourbon Hogsheads, mit Finish im 1st-fill Oloroso Fass. Der Whisky bringt alles an Aromen, was man erwartet. Deutliche Sherry-Noten, Nüsse, Leder und Würze. Er ist voll und dunkel und das Alter ist deutlich spürbar. 
Fortgesetzt wurde die Reihe mit einem Kandidaten von den Orkneys. Der Whitlaw aus der Cask Strength-Variante der Un-Chillfiltered Collection von Signatory Vintage ist fünf Jahre alt und durfte in zwei Recharred Butts reifen, bevor er mit 59,1 % Vol. abgefüllt wurde. Die Aromen erinnern an einen Fruchtplunder mit Schokolade. Dazu etwas Karamell und Marzipan.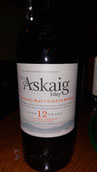 Für die Nummer Fünf geht es auf die Insel Islay. Der Port Askaig von Elixier Distillers ist 12 Jahre alt, reifte in Refill-Bourbon Hogsheads und Sherry Butts und wurde mit 45,8 % Vol. in die insgesamt 9000 Flaschen gebracht. Süßlicher Rauch mit verhaltenem Räucherspeck. Dazu dunkle Früchte. Ein schöner Caol Ila.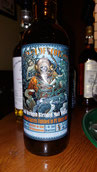 Auch der Abschluss-Whisky des Line-Ups kam von der Insel Islay. Genauer aus dem Süden der Insel. Hinter dem Williamson aus dem Brühler Whiskyhaus verbirgt sich ein Laphroaig. Die Abfüllung aus der Reihe 'A Dream of Scotland' reifte insgesamt 10 Jahre in Ex-Bourbon Barrels und einem PX Sherry Butt. Es wurden 568 Flaschen mit 58,6 % Vol. abgefüllt. Das PX-Fass hat deutliche Spuren hinterlassen. Kräftige Süße, gepaart mit kräftigem, aber angenehmem, Rauch. Dazu eine ganze Reihe von Gewürzen mit einem gewissen winterlichen Touch. 
Das Line-Up war hervorragend ausgewählt. Alle Whiskys waren ausgezeichnet und haben mir ausnahmslos sehr gut gefallen. Allerdings war der Laphroaig an diesem Nachmittag für mich unangefochtener Spitzenreiter (wen wundert's). Ich freue mich schon auf mein nächstes Tasting mit Whisky & Pipes im Januar.