(enthält nicht-bezahlte Werbung aufgrund Produktpräsentation )
Unter dem Namen 'The Dark Side of Islay' gibt es seit 2016 eine Reihe von Abfüllungen des unabhängigen Abfüllers Malts of Scotland in Paderborn. Die Serie besteht aus Blended Malts mit Whiskys von Islay Destillerien. Die Namen erinnern an lange stillgelegte Destillerien der Insel. Begonnen wurde die Serie 2016 mit dem Scarabus. Der Ardenistiel kam 2020 dazu. Die gleichnamige Brennerei existierte – mit mehreren Namensänderungen - seit 1821 direkt gegenüber der Laphroaig Destillerie. In 1868 wurde dies stillgelegt und Laphroaig übernahm die Gebäude. Heute stehen Büros und Lagerhäuser von Laphroaig auf dem Gelände.
Über die Abfüllung selbst ist leider nicht allzu viel Information zu finden. Weder über die Herkunft der Whiskys, noch über die verwendeten Fässer. Das Alter wird mit 'über 18 Jahren' angegeben. Die Alkoholstärke beträgt 52,9 % vol. und es wurden insgesamt 1395 Flaschen abgefüllt.
Der Whisky ist im Shop von MoS auch noch verfügbar, allerdings nicht mehr zu dem Preis von damals.
52,9 % Vol. - Blended Malt Scotch Whisky - Sherry, Brandy; Red Wine - 18 Jahre - Fassnr.: MoS 20037 / 1395 Flaschen - nicht gefärbt, nicht kühlgefiltert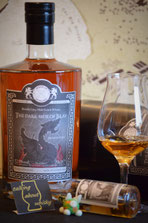 Auge: Die Flüssigkeit schimmert wie ein klarer, dunkler Bernstein und bewegt sich schwerfällig im Glas. Die Legs sind fein und zahlreich und fließen nur träge nach unten.
Nase:  Ein schöner weicher, aber deutlicher Rauch steigt in die Nase. Er wird begleitet von dunklen reifen Beeren und Trauben. Ledrige und holzige Noten kommen dazu. Ebenso Schokolade und Röstaromen. Der Alkohol treibt die Aromen ein wenig.
Mund:  Der Antritt ist sehr trocken. Der Rauch und die Süße sind sofort da. Direkt gefolgt von einer wärmenden Schärfe. Er ist cremig auf der Zunge. Diese Cremigkeit wird mit etwas Wasser noch verstärkt. Dunkles Karamell taucht auf und wieder die Röstaromen.
Nachklang:  Der Nachklang ist lang und würzig-süß bis zum Schluss.
Fazit:  Das ist ein Tropfen, der mir so richtig gut gefällt. Rauch und Schärfe harmonieren schön mit Süße und Würze. Etwas Wasser bringt die Aromen noch deutlicher heraus. Love it.