(enthält nicht-bezahlte Werbung aufgrund Produktpräsentation )
Mitte des Monats war ich bei einem Tasting bei Peter Sondheim von Bestwhisky in Stuttgart, meinem Local Dealer (->siehe hier). Wie immer, wenn er Abfüllungen von The First Edition im Line-Up hat, besteht die Gefahr, dass Folgekosten entstehen. So war es diesmal auch wieder. Zwei der vorgestellten Abfüllungen durften anschließend mit mir den Heimweg antreten. In der Auktion, bei Krüger, war ich dieses Mal auch wieder etwas zurückhaltend. Eine Flasche für meine Flora & Fauna-Sammlung habe ich recht günstig ersteigert. Normalerweise landen die Newsletter von Malts.com mehr oder weniger direkt im Papierkorb. Dieser eine, mit der Werbung für die Offerman-Edition allerdings nicht. Hier habe ich den 'Kaufen'-Button gedrückt. Den Abschluss des Monats machte die Sonderabfüllung für das kommende Irish Whiskey Wochenende mit Mareike Spitzer.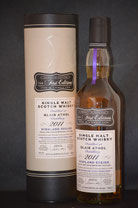 Blair Athol 2011 - 10 Jahre - The First Editions
60,1 %vol - Sherry Butt
Dieser 10-jährige Blair Athol war der zweite Whisky im Tasting. Ich hatte selten so viel Karamell im Mund und in der Nase.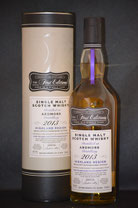 Ardmore 2013 - 8 Jahre - The First Editions
60,4 %vol - Refill Barrel
Der 8-jährige Ardmore machte den Abschluss des Tastings. Eine absolut überzeugende Vorstellung mit schönem Rauch , Malz und Salzkaramell.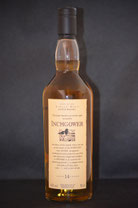 Inchgower 14 Jahre Flora & Fauna
43 %vol
Ich bin immer wieder auf der Suche nach früheren Abfüllungen aus der Flora & Fauna Serie. Der Inchgower ist zwar auch bei den aktuellen Ausgaben dabei, diese Flasche stammt allerdings aus 2007.
Lagavulin 11 Jahre Offerman 3rd Edition
46 %vol - Charred Oak
Von den Lagavulin Offerman-Ausgaben hatte ich schon gehört und die Beschreibung im Newsletter klang auch vielversprechend. Ob erhält, was ich mir verspreche kann ich demnächst probieren.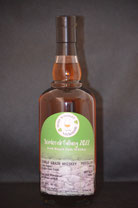 Irish Whiskey Wochenende Sonderabfüllung 2022
57 %vol - Virgin Oak Casks
Die letztjährige Sonderabfüllung hatte mir ausgesprochen gut gefallen, deshalb habe ich bei der diesjährigen Ausgabe sofort zugegriffen. Am kommenden Samstag wird sich zeigen, ob das ein guter Griff war.