(enthält nicht-bezahlte Werbung aufgrund Produktpräsentation )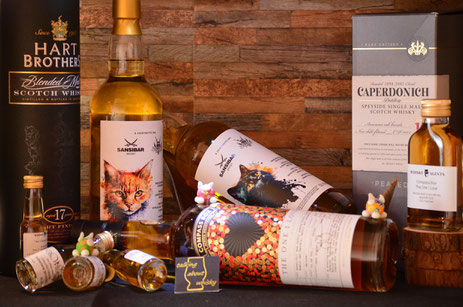 Bei den 5 neuen Flaschen, die im März zu meiner Sammlung dazukamen, war nur eine wirklich geplant. Alle anderen waren mal wieder reine Spontankäufe. Ein Beifang aus der Auktion mit einem, von mir derzeit bevorzugten, Port-Finish, eine Sonderabfüllung von Compass Box und ein Pärchen 'Katzenwhiskies' gesellten sich zum Wunschkauf. Ganz nebenbei gab es noch einen 'Reverse-Whisky', ein Wein aus einem Whiskyfass.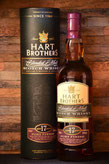 Blended Malt Hart Brothers 17 Jahre - 50 %vol - Port Finish
Den Blended Malt aus dem Hause Hart Brothers hätte ich auch noch im regulären Handel bekommen, aber in der Auktion hab ich tatsächlich ein paar Euro gespart.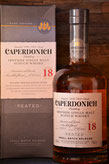 Caperdonich Peated - Small Batch Release 18 Jahre - 48 %vol - American Oak Barrels
Nach einem Video von Ralfy wollte ich diese Abfüllung einmal probieren. In der Februar-Auktion hatte ich Gelegenheit eine Flasche zu einem annehmbaren Preis zu bekommen.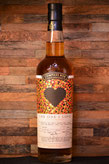 Compass Box The One I Love  - 48,9 %vol - Sherry Butts, Refill and Recharred Barrel
Zusammen mit Whiskymaker John Glaser hat Gert Schmerschneider von Prineus diese Sonderabfüllung für die Facebook-Gruppe 'I Love Compass Box' kreiert.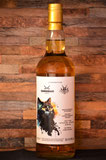 Secret Sutherland 2008 Sansibar Colourful Wildlife 14 Jahre - 53,1 %vol - Sherry Hogshead
Eine Abfüllung aus dem Joint Bottling von Sansibar und deinwhisky.de, Teil 1 von 3. Der Kaufauslöser waren tatsächlich die Katzenlabels.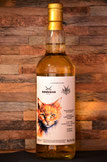 Secret Sutherland 2013 Sansibar Colourful Wildlife 9 Jahre - 50,2 %vol - Hogshead
Die zweite Flasche der dreiteiligen Sutherland-Kollektion für mein heimisches Katzentrio. Wieder ein Secret aus der Grafschaft Sutherland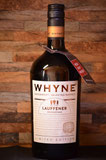 WHYNE® - FASSGEREIFT | SELECTED BARRELS
Ein Projekt der Weingärtner aus Lauffen am Neckar. Hier reifen Rotweine der Genossenschaft in Standard Barrels (200 L) und in Hogsheads (250 L) , die zuvor zur Reifung von schottischem Whisky verwendet wurden.