(enthält nicht-bezahlte Werbung aufgrund Produktpräsentation )
Mein erster Whisky aus Österreich. Broger ist eine Familienbrennerei aus Vorarlberg. Neben Whisky werden auch Gin und Edelbrände hergestellt in echter Handwerkskunst. Neben Malz aus Deutschland und Schottland, wird stark auf lokale Produkte gesetzt. Das Malz für den hier verkosteten getorften Whisky kommt direkt aus Schottland. Der Phenolgehalt wird mit 57ppm angegeben.
Auf der Seite des Herstellers wird dieser Whisky als 'der stärkste Stier im Stall' angekündigt. Auch mit zwei Auszeichnungen wird hier geworben:
 - World Whisky of the Year 2014, Whisky Advocate
 - 95/100 Punkte, Jim Murray's Whisky Bible 2017 (Kategorie: Superstar whiskies that give us all a reason to live)
Die Notes des Herstellers beginnen mit den Worten 'In der Nase ein Tiger, am Gaumen ein Kätzchen'. Lassen wir uns überraschen'.
42 % Vol. - Sherry, Chateau d'Yquem und österreichische Eichenfässer - nicht gefärbt, nicht kühlgefiltert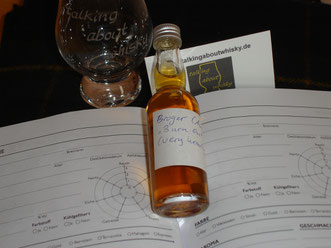 Farbe: Terracotta
Aroma: Ich stehe in einer Kfz-Werkstatt. Motoröl. Benzin und heißer Gummi. Dahinter verbirgt sich eine malige Süße. Dann wird er lackig. Jod und Brackwasser. Heftige Aromen, die nur am Rande an Whisky erinnern.
Geschmack: Heißer Reifengummi, verbranntes Holz, aber auch dunkle Schokolade und geröstete Nüsse. Leicht angebranntes Karamell und dann wieder Lack. Er ist tatsächlich im Mund nicht so heftig, wie in der Nase.
Abgang: Nachhaltige Gummi- und Lacknoten. Die gerösteten Nüsse und das Malz mildern das ganze etwas ab.
Fazit: OMG. Eine echte Herausforderung. Hier ist der Name Programm; ein absoluter Reifen-Burn-Out. Jetzt sollte ich bereit sein für den Fujikai.