(enthält nicht-bezahlte Werbung aufgrund Produktpräsentation )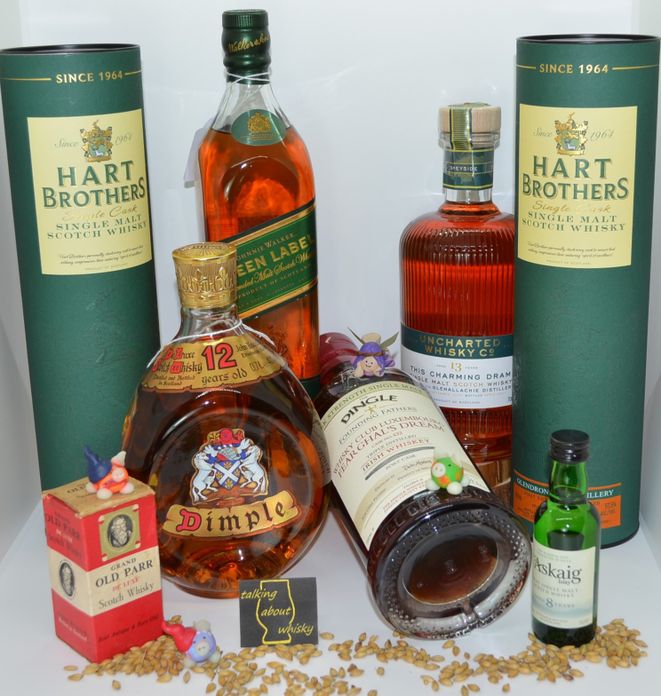 Letzten Monat konnte ich mal wieder zwei Flaschen und eine Miniatur in der Auktion ergattern. Ein alter Blend und ein nicht ganz so alter Blended Malt waren die Beute. Dazu kamen zwei Flaschen eines renommierten unabhängigen Abfüllers und eine Flasche eines neuen unabhängigen Abfüllers. Zum Abschluss konnte ich noch eine Sonderabfüllung eines irischen Single Malts erstehen.  

Dimple DeLuxe Scotch Whisky - 12 Jahre - 40 %vol
Dieser Dimple dürfte aus Ende der 70er und Anfang der 80er stammen und ist somit eine der ältesten Abfüllungen in meiner Sammlung.
Johnnie Walker Green Label - The Art of Pure Malt - Blended Malt - 15 Jahre - 43 %vol
Nachdem hier schon nach rechts 'gestridet' wird, es aber eine Flasche aus der Zeit vor dem Re-Launch ist, würde ich ihn in die Zeit nach 1999 und vor 2012 verorten. Bin gespannt, wie der Unterschied zur aktuellen Variante ist.
(Notes zur aktuellen Varianten aus Mitte 2017)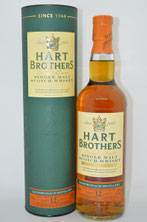 Glendronach 2009 Single Cask - Cask Strength Hart Brothers - 12 Jahre - 57,5 %vol - 1st Fill Sherry Butt
Nach den Besprechungen, die ich gehört und gelesen habe ein recht untypisch würziger und trockener Glendronach, anders, als die sonst üblichen süß-fruchtigen Sherry-Abfüllungen. Für mich interessant genug, um eine Flasche zu kaufen.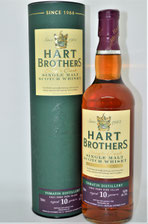 Tomatin 2010 Cask Strength Hart Brothers 10 Jahre - 53,8 %vol - 1st Fill Port Pipe
Für den Tomatin gab es zwei Gründe. Zum einen die Port-Reifung, die momentan auf meiner Wellenlänge liegen, zum anderen die guten Bewertungen 

Glenallachie 2007 Uncharted Whisky Company 13 Jahre - 50 %vol - First Fill Sherry Cask
Dieser Glenallachie hat mich von Anfang an interessiert und ich hatte Gelegenheit ihn zu probieren. Er hat nicht enttäuscht.
(Notes)

Dingle Fearghal's Dream Founding Fathers Bottling - 5 Jahre - 59,6 %vol - Port Cask
Bei dem Dingle (schwäbisch: kleines Ding 😉 ) hatte ich das Glück in einem kleinen privaten Online-Tasting mit einem Mitglied das Whisky Club Luxemburg gewesen zu sein. Sonst wäre ich an diese Sonderabfüllung nicht ran gekommen.
(Notes)