(enthält nicht-bezahlte Werbung aufgrund Produktpräsentation )
In 2016 kam wieder eines von John Glasers Meisterwerken heraus, mit dem er sich mal wieder indirekt mit der SWA angelegt hat. Gemäß den Regeln Wird dieser Blended Malt als dreijähriger tituliert. Genau 0,4 % in dieser Mischung sind drei Jahre alt. Der Rest besteht aus Whiskys, die 20 oder mehr Jahre im Fass gelegen sind. Der Hauptanteil der Mischung kommt von Clynelish (1st Fill ASB und Refill Hogshead), der Rest von Talisker (1st Fill Sherry Butt). Hier ein Auszug aus dem Fact Sheet zum 3yo Deluxe:

   …a Blended Malt whisky composed of just under 1% three year-old malt
   whisky produced near the v illage of Brora, a l ittle over 90% malt whisky
   of an unstated but considerably older age from the same distillery and
   9% peaty malt whisky, distilled on the Isle of Skye. Regulations permit
   us only to share details of the age of the youngest component!
Für die Verkostungsnotizen habe ich mir ein Sample besorgt. Es war Zeit, zu testen, ob er meine hochgesteckten Erwartungen erfüllt.
49,2 % Vol. - 1st Fill American Standard Barrel, Refill Hogshead, 1st Fill Sherry Butt - 3282 Flaschen - nicht gefärbt, nicht kühlgefiltert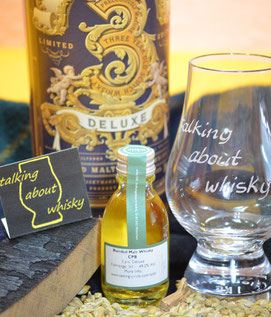 Farbe: Dunkles Gold.
Aroma: Zuerst leicht grasige Noten und unreife Haselnüsse. Dann macht sich eine hellfruchtige Süße breit, diese wandelt sich zu Blütenhonig. Die Nüsse werden reifer und sind in Schokolade eingebettet. Die Früchte werden dunkler und teilweise exotisch. Der Whisky macht schon in der Nase einen cremig weichen und tiefen Eindruck.
Geschmack: Die Cremigkeit zeigt sich im Mund sofort. Die grasigen Noten machen schnell der Honigsüße Platz. Der Alkohol bringt eine angenehme Schärfe mit. Es folgen wachsige Aromen und eine schöne kräftige Würze. Nun taucht auch Vanille auf. Hintergründig zeigt sich etwas Salzkaramell…
Abgang: Eine cremige und würzige Süße bleibt lang im Mundraum erhalten.
Fazit: Der Whisky erfüllt voll und ganz meine hohen Erwartungen. Es braucht etwas Zeit, damit er sein Entwicklungspotential voll zur Geltung bringen kann.