Als bekennender Compass Box-Fan habe ich mich bisher nur mit den Blended Malts des unabhängigen Abfüllers beschäftigt. Letztens hat mir eine Freundin (unter anderem) ein Sample des Compass Box Blends Asyla mitgebracht.
Compass Box selbst bezeichnet ihn als den ultimativen 'Alltags'- ,'Vor dem Abendessen'- oder 'Sonntagnachmittags'-Scotch Whisky. Er ist Teil der Hauptproduktlinie 'Signature Range'. Dank der offenen Informationspolitik des Herstellers gibt es recht detaillierte Informationen  zur Zusammensetzung des Whiskys.
Zur Hälfte besteht er aus einem Grain Whisky der Destillerie Cameronbridge, gereift in First Fill American Standard Barrels. 23% kommen aus First Fill American Standard Barrels der Brennerei Teaninich, 22% aus First Fill American Standard Barrels der Brennerei Linkwood und die restlichen 5% aus Refill Butts aus Glen Elgin.
Die Frage nach der Namensgebung beantwortet Compass Box mit:
ASYLA is the plural of asylum – a word rich in ambiguity, suggesting that delicate balance between madhouse and sanctuary, an idea we have always felt well suited to a whisky style such as this. This is a whisky that will gently enliven the senses. It is at once delicate, comforting and luminous.
40 % Vol. - Blended Whisky - First Fill American Standard Barrels, Refill Butts - Cameronbridge, Glen Elgin, Teaninich, Linkwood - nicht gefärbt, nicht kühlgefiltert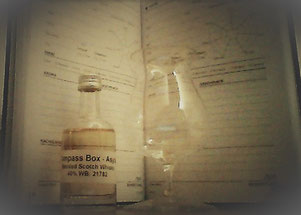 Farbe: Stroh, helles Gold.
Aroma: Grüner Apfel, Heu schöne Vanillenoten. Mit der Zeit entwickelt sich der Apfel zu einer reifen Aprikose und die Vanille wird nach  und nach zur Vollmilchschokolade.
Geschmack: Gleich im Antritt kräftige Vanille und Birne. Dazu eine ordentliche Würze und Bitterschokolade, langsam zu Kaffeenoten übergehend. Hintergründig zieht sich eine Karamellsüße durch.
Abgang: Recht lang mit reichlich Karamell.
Fazit: Ein wirklich ordentlicher Blend aus dem Hause von John Glaser.