Compass Box hat seine Core Collection um einen Whisky erweitert. Neben dem Oak Cross, dem The Spice Tree und dem The Peat Monster ist nun The Story of the Spaniard die Nummer Vier in der Reihe. Die Herkunft des Namens erklärt John Glaser auf der Rückseite der Verpackung. Er erinnert an eine frühe Reise des Whisky Makers durch Spanien. Der Whisky ist der Beschreibung nach recht sherry-lastig. Er besteht zu 48% aus sherryfass-gelagerten Anteilen. Der größte Anteil ist ein Craigellachie aus einem 1st-fill Sherrybutt, dazu ein ordentlicher Anteil Teanninich aus dem Weinfass, ein Deanston aus einem 2nd-fill Sherrybutt, ein weiterer Deanston aus dem 2nd-fill Hogshead und ein Glen Elgin aus re-charred Barrels. Der Rest ist dann der übliche Highland Blended Malt aus französischer Eiche.
43 % Vol. - Blended Malt Scotch Whisky - Ex-Bourbon, Sherry-Butts, Weinfässer - nicht gefärbt, nicht kühlgefiltert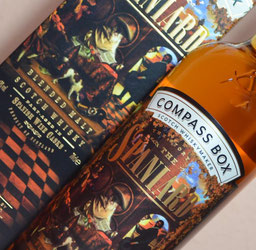 Farbe: Bernstein.
Aroma: Zu Beginn Zitrusfrüchte, Orangen, Zitronen, dann Nektarinen, Sultaninen, Zimt, Vanille. Alles recht hell und leicht, dabei doch intensiv und vielschichtig. Eine leichte alkoholische Note ist dabei. Zarte Holztöne, Schokolade und ein klein wenig modriger Keller kommen hinterher. Die hellen Fruchtnoten verschwinden mit der Zeit, es wird dunkler.
Geschmack: Im Antritt süß. Vanille, Rosinen und eine wärmende Ingwerschärfe. Schokolade,
etwas Pflaume und versteckter Rauch. Nach und nach kommen auch die Holznoten. Trotz der Schärfe ein weiches, cremiges Mundgefühl mit mundwässerndem Effekt.
Abgang: Lang. Dunkle Süße und wärmende Schärfe.
Fazit: Wieder ein sehr ansprechender Tropfen aus dem Hause Compass Box., mit Aromen von hell nach dunkel.