(enthält nicht-bezahlte Werbung aufgrund Produktpräsentation )
Beim Canvas hat Compass Box unter anderem Fässer verwendet, die zwei Jahre lang mit Vino Naranja, Orangenwein aus dem Condado de Huelva, befüllt waren. Dieser Orangenwein wird aus einem Traubenmost hergestellt - in der Regel aus Palomino- oder Pedro Ximénez-Trauben -, der mit Bitterorangenschalen versetzt und dann mit Alkohol angereichert wird. Diese Fässer wurden nun für drei Jahre mit gereiftem Whisky aus der Brennerei Tomatin befüllt.
Das Canvas-Etikett ist ein verschnörkelter "Trophäenrahmen", der die Geschichte der Whiskyherstellung würdigen soll. Wer genau hinschaut wird neun Details entdecken, darunter eine Nase, eine feurige Sanduhr, ein Fass, ein Gerstenbündel, Eichenblätter, eine Pot Still… . Auf der  Instagram-Seite von Compass Box werden einige dieser Symbole mit ihrer Bedeutung gezeigt.
Die Zusammenstellung des Whiskys ist wie immer auf der Compass-Box-Seite zu finden.
  6,1% The Imperial Distillery First Fill Bourbon Barrel, 24 Jahre
10,9% The Tomatin Distillery Vino Naranja Barrel, 13 Jahre
15,4% The Glen Elgin Distillery Recharred American Oak Hogshead, 18 Jahre
24,2% The Glenburgie Distillery First Fill Bourbon Barrel, 14 Jahre
43,4% The Tomatin Distillery Refill Bourbon Barrel, 13 Jahre
46 % Vol. - Blended Malt Scotch Whisky - First Fill Bourbon Barrel,  Recharred American Oak Hogshead, Refill Bourbon Barrel, Vino Naranja Barrel  - 13 Jahre - 5880 Flaschen - nicht gefärbt, nicht kühlgefiltert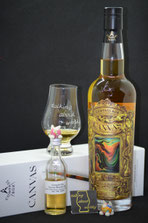 Auge: Goldgelb und recht viskos liegt der Whisky im Glas. Ölig, mit rascher Tropfenbildung.
Nase: Helle, überreife Früchte zusammen mit Hefeteig. Es folgen Röstaromen. Eine nicht unanagenehme Chili-Schärfe gesellt sich dazu.
Mund: Cremig weich im Antritt. Eine schwere Süße mit Vanille. Dazu kommt ordentlich Eichenwürze, aber ohne Bitternote. Dann tauchen aus dem Hintergrund vorsichtig die Orangen auf, vor allem Orangen-Zesten, also doch noch ein kleiner Anteil Bittertöne.
Nachklang: Der Nachklang ist eher mittellang, mit Süße und Vanille. Im Abgang findet sich auch noch eine Spur der Orangen aus dem Vino Naranja Fass (zumindest könnte man sich das einbilden)
Fazit: Ein durchaus leckeres Whisky-Experiment, aber keine wirkliche Glanzleistung. Der Orangenwein hat aus meiner Sicht nicht allzu viel Eindruck hinterlassen. Die fruchtigen Aromen und die Vanilletöne sind allerdings sehr gefällig.