(enthält nicht-bezahlte Werbung aufgrund Produktpräsentation )
The Circle ist nach einem Bartending Programm benannt, das von Compass Box entwickelt wurde. Jedes Jahr werden Wettbewerbe organisiert. Die erste Gewinnerin war Rosey Mitchell, eine Barkeeperin von Londons Three Sheets. Sie durfte ihren eigenen Compass Box Blend komponieren. Daraus entstand The Circle.
The Circle besteht hauptsächlich (78,8 %)  aus Tamdhu Malt Whisky, gereift in 1st-Fill Ex-Bourbon Fässern. Dazu kommt Clynelish (14,8 %) aus einem Refill Sherry Butt und etwas Highland Park (4,9 %) aus einem Recharred American Oak Hogshead.  Ein kleiner Anteil (1,5 %) des Standard Highland Blended Malt von Compass Box (60% Clynelish, 20% Dailuaine, 20% Teaninich gereift in Hybrid-Fässern aus französischer Eiche) rundet die Sache ab.
46 % Vol. - Blended Malt (Tamdhu, Clynelish, Highland Park) - limitiert auf 6151 Flaschen - nicht gefärbt, nicht kühlgefiltert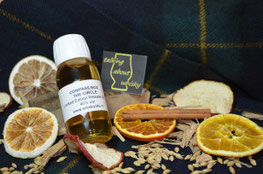 Farbe: Gold
Aroma: Kräftige Vanillearomen bilden das Vorspiel. Weiter geht es mit frischen, hellen Früchten. Äpfel, Birnen, Zuckermelone. Dann folgen Karamell (fast Salzkaramell) und Blütenhonig, eher noch Bienenwachs. Er wirkt schon in der Nase angenehm weich und cremig.
Geschmack: Der Whisky läuft weich und cremig über die Zunge. Karamell und Vanille mit Honig. Dazu reife Früchte. Im Mund wirkt er würziger und reifer, als in der Nase. Es findet sich auch eine spürbare pfeffrige Schärfe, die sich mit der deutlichen Süße verbindet.
Abgang: Der Abgang ist eher mittellang, geprägt von schöner, würziger Süße.
Fazit: Wieder eine Komposition von Compass Box, die mich begeistert. Der 'Sonnenschein im Glas' weiß zu überzeugen.