(enthält nicht-bezahlte Werbung aufgrund Produktpräsentation ) 
Die Ankündigung für diesen neuen Blended Malt von Compass Box kam Ende Februar, kaum dass ich den Magic Cask zum Whisky des Monats zum Whisky des Monats gekürt hatte. Seitdem hatte ich bei einigen Händlern immer wieder geschaut, ob er gelistet ist. Fündig wurde ich dann allerdings in den Niederlanden und dann auch noch mit einem Angebot. Da konnte ich nicht widerstehen. Besonders reizvoll für mich war die Information, dass ein Bestandteil der Mischung von Laphroaig kommt. Auch die anderen Bestandteile des Blended Malts klangen interessant. Der Hauptteil kommt von Mortlach, gefolgt von Glen Elgin und Deanston. Auch ein nennenswerter Teil der Highland Blended Malt-Mischung ist dabei. 
42.7%  - The Mortlach Distillery - Recharred Barrel 
13.1%  - The Glen Elgin Distillery - Recharred Barrel 
  5.0%  - The Glen Elgin Distillery - Refill Sherry-Seasoned Butt  
14.6%  - The Deanston Distillery - Refill Hogshead 
  2.5%  - The Deanston Distillery - Refill Sherry-Seasoned Butt  
16.7%  - Highland Malt Blend - Custom French Oak Barrel - Medium and Heavy Toasts 
  5.4%  - The Laphroaig Distillery - Recharred Hogshead 
46 % Vol. - Blended Malt - Laphroaig, Mortlach, Glen Elgin, Deanston - 7741 Flaschen - nicht gefärbt, nicht kühlgefiltert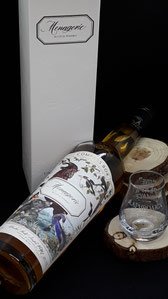 Auge: Eine leicht viskose Flüssigkeit mit einer warmen, gelbgoldenen Farbe. Eng und gleichmäßig verteilen sich die Legs an der Glaswand. 
Nase: Helle, leicht säuerliche Beerenfrüchte. Traubenzucker-Süße und ein Hauch von Hefeteig. Ein wenig Vanille und ganz verhaltene Rauchtöne. Dann wird es würziger und geröstete Kaffeebohnen kommen durch. Weitere helle Früchte zeigen sich. 
Mund: Fruchtige Süße, dann Honig und eine weiche, aber doch deutliche Schärfe. Eichenwürze. Trockene Cremigkeit. Dann taucht plötzlich der Rauch aus dem Hintergrund auf. Die Süße und die Würze halten sich die Waage. 
Nachklang: Das cremig-trockene Mundgefühl mit einer wärmenden Schärfe hält sich lange im Mund und bringt ganz zum Schluss noch etwas dunkle Schokolade. 
Fazit: Kräftig, aber dennoch harmonisch. Süß, aber auch würzig. Cremig und trocken zugleich. Wäre mir die Schärfe nicht schlussendlich doch zu dominant, hätte dieser Whisky meine uneingeschränkte Begeisterung.