(enthält nicht-bezahlte Werbung aufgrund Produktpräsentation )
Die Marke The First Editions gehört zu Hunter Laing & Co. Ltd. Der unabhängige Abfüller Edition Spirits, der diese Marke herausbringt, wird geleitet von Andrew und Scott Laing, den Söhnen von Stewart Laing, dem Direktor von Hunter Laing & Co. Ltd. In der First Editions Reihe erscheinen Einzelfass-Abfüllungen in Fassstärke ohne Farbstoff oder Kältefiltration. 
Die Farbcodierung auf den Etiketten kennzeichnet die jeweiligen Regionen, aus denen die Whiskys stammen (Rot - Speyside, Blau - Island, Grün - Islay, Lila - Highland, Türkis - Lowlands, Orange - Campbeltown). Preislich sind die Abfüllungen in der Regel leider etwas ambitioniert, was aber durch die Qualität in der Regel durchaus gerechtfertigt ist.
Die Speyside-Brennerei Longmorn gehört zu Chivas Brothers (Pernod Ricard) und hat eine recht überschaubare Anzahl an Standard-Abfüllungen, den The Distiller's Choice, einen 16-jährigen und einen 23-jährigen Single Malt.
54,9 % Vol. - Single Malt Scotch Whisky - Refill Hogshead - 24 Jahre 1996/2021 - Fassnummer HL18529 218 Flaschen - nicht gefärbt, nicht kühlgefiltert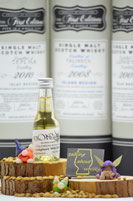 Auge: Für 24 Jahre recht hell, wie Stroh oder ein leichter Weißwein. Trotz der hellen, leichten Farbe bewegt sich die Flüssigkeit schwer und ölig im Glas. Die feinen, dünnen Legs bilden sich langsam und laufen dafür recht zügig nach unten.
Nase: Helle, nussige Aromen begleitet von Zitrusnoten und Vanille machen den Anfang. Schokolade, Ananas und Mango folgen. Eine schöne, tiefe Süße steigt in die Nase unterstützt von einer leichten, alkoholischen Schärfe.
Mund: Cremig, fast ölig, mit deutlicher Würze zeigt sich der Whisky im Antritt. Es folgen die hellen Früchte und dunkle Schokolade. Die Schärfe ist deutlicher. Die Nussaromen finden sich ebenfalls wieder. Mit etwas Wasser zieht sich die Schärfe zurück und macht leichten Bittertönen Platz.
Nachklang: Eine langanhaltende Aromenmischung hält sich im Mund. Vornehmlich die Süße bleibt erhalten.
Fazit: Der Whisky bestätigt meine bisher durchweg guten Erfahrungen mit Abfüllungen von First Editions. Die schönen nussigen Aromen gepaart mit den Früchten gefallen mir. Einzig die doch recht deutliche Schärfe im Mund oder wahlweise die Bitternoten nach Zugabe von Wasser dämpfen ein wenig den ansonsten positiven Eindruck.
Weitere Abfüllungen von First Editions: