Die Brennerei Glenallachie wurde 1967 gegründet. Sie liegt am Fuße des Ben Rinnes in direkter Nachbarschaft der Brennerei Aberlour, im 'Valley of the Rocks' (Bedeutung des gälischen Namens). Die großen Brennblasen sind für leichte Whiskys mit einer Getreidenote ausgelegt. Glenallachie ist eine recht große Brennerei, ausgelegt für die Massenproduktion für Blends. Der Großteil der Produktion an Single Malts geht(ging?) in die Blends der Chivas Brothers.
Seit kurzer Zeit ist die Glenallachie Distillers Company Eigentum eines privaten Konsortiums um den Haupteigentümer Billy Walker, einem ehemaligen Managing Director bei BenRiach (Artikel dazu). Die neuen Eigentümer beabsichtigen, eine Reihe von Premium-Quality- aber dennoch erschwinglichen Whiskys auf den Markt zu bringen.
Ich hatte bisher erst einen einzigen Glenallachie. Es war ein Sample, dass einer Lieferung beigelegt war (->Quick-Notes).
58,7 % vol. - Refill Hogshead - Fass# HL 13309 - 242 Flaschen - nicht, gefärbt, nicht kühl gefiltert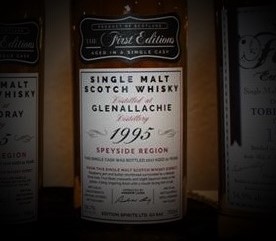 Farbe: Gold
Aroma: Karamell, geröstetes Getreide. Reife dunkle Früchte. Apfelschalen und frisch poliertes Leder.
Geschmack: Dunkles Karamell, Röstaromen. Der Mundraum füllt sich mit einem fruchtigen Belag. Kräftige, würzige Schärfe folgt. Dunkle Schokolade, Tabak, leicht ins Bittere gehend.
Abgang: Lang und würzig mit angebranntem Karamell.
Fazit: Das ist definitiv nicht die leichte Kost, die der Brennerei bisher nachgesagt wird.