(enthält nicht-bezahlte Werbung aufgrund Produktpräsentation )
Von Talisker gab es bislang  drei Abfüllungen für die 'Friends of Classic Malts'. Im Jahr 1999 gab es einen 10-Jährigen in Fassstärke mit eine Limitierung auf 7.000 Flaschen. Einen alterslosen Triple Matured in einer auf 9.000 Flaschen limitierten Auflage gab es 2013. Der hier vorgestellte 12-jährige Talisker wurde im Jahr 2007 anlässlich des 10-jährigen Bestehens der Friends Of Classic Malts abgefüllt. Der Whisky reifte für 12 Jahre in Fässern aus europäischer Eiche und wurde anschließend mit 45,8% Vol. in 21.500 einzeln nummerierten Flaschen abgefüllt.
45,8 % Vol. - Single Malt Scotch Whisky - europäische Eiche - 12 Jahre, abgefüllt 2007 - 21.500 Flaschen - gefärbt, kühlgefiltert (?)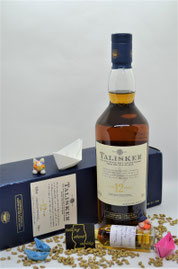 Auge: Ein klarer gold-bronzener Bernsteinton zeigt sich in der Farbe. Leicht ölig bewegt sich die Flüssigkeit im Glas. Es bilden sich viele feine Tropfen und fließen zügig zurück in den Whisky.
Nase: Dezenter Rauch mit schönen Karamellnoten. Dazu kommen maritime Aromen mit Salz und Algen. Es folgen Zitrusnoten und Pfirsich, sowie kräftige Malztöne. Langsam zeigt sich eine leichte pfeffrige Schärfe. Auch ein paar muffige Untertöne sind dabei, die aber nach und nach wieder verschwinden.
Mund: Wieder die Karamellnoten mit dem dezenten Rauch. Die leichte Schärfe ist hier schneller präsent. Malz und Honig, dazu dunkle Schokolade. Die maritimen Noten sind nicht ganz so deutlich, aber doch spürbar. Auch hier finde ich die leicht muffigen Kellernoten.
Nachklang: Im langen und rauchigen Abgang finden sich auch die Zitrusaromen wieder.
Fazit: Ein sehr schöner Whisky von Talisker. Ich würde ihn als etwas weichere Version des 10-jährigen bezeichnen. Die leicht muffigen Untertöne würde ich einem 'Old Bottle Flavour' zuordnen wollen; immerhin verbrachte er 15 Jahre in der Flasche, bevor er ins Glas durfte. Sie passen aber ausgezeichnet zum sehr guten Gesamteindruck.