Der Talisker Friends of the Classic Malts, kurz "FOCM", war eine Exclusivabfüllung für den gleichnamigen, offiziellen Fan Club von Diageo für Whiskyliebhaber. Er war die erste Abfüllung eines dreifach gelagerten Whiskys der Destillerie. Der Whisky wurde 2013 in einer limitierten Stückzahl von 9.000 Flaschen und einem Alkoholgehalt von 48,0% abgefüllt. Bereits 1999 gab es eine erste Spezialabfüllung für die FoCM. Damals war es ein 10-jähriger Whisky, abgefüllt in Fassstärke.
48% Vol. - Refill Casks, charred American Oak Hogsheads, Refill European Oak Casks - gefärbt, kühlgefiltert (?)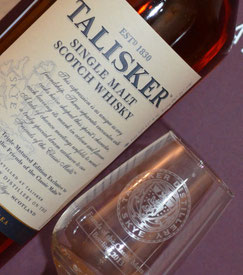 Farbe: dunkler Bernstein, Kupfer
Aroma: zarte Specknoten, Vanille , Malz und dazu gebratene Pflaumen. Das ganze Gericht ist leicht gepfeffert. Dahinter kommt eine salzige Meeresbrise. Dann kommen noch ein paar Mandeln und frische Zitrusnoten.
Geschmack: Kandissüsser Antritt mit nachfolgendem Lagerfeuer und ordentlicher Chilischärfe. Würzige Eiche, Malz und Vanille. Dazu Sultaninen. Leicht prickelnd auf der Zunge, aber cremig im Mund.
Abgang: Etwas mehr als mittellang mit Schärfe übergehend in eine süße Würze. 
Fazit: Ein recht voluminöser und komplexer Talisker. Angenehm und harmonisch.