(enthält nicht-bezahlte Werbung aufgrund Produktpräsentation )
Nach den Abfüllungsreihen Sujet, Nymphs of Whisky 1 und 2 (alle bereits beendet), Landscape of Taste (seit Kurzem auch nicht mehr aktiv, aber erst letztens hier noch berichtet und es kommen noch zwei Notes) und The War of the Peat (noch aktiv und leider schon länger nichts mehr gehört ;-) ) eröffnet der Online-Händler whic.de eine weitere Reihe, die 'Amazing Whiskies'. In der Pressemitteilung, die ich begleitend zu dem Sample und dem Bild bekommen habe lässt sich folgendes lesen:
"Dieser Glenrothes 22 Jahre ist Episode 1 von whics famoser Amazing Whiskies Serie. Der Einstieg in eine fulminante 30-teilige Reihe aus umwerfenden Single Cask Whiskys. Jeder Whisky kommt in einer schwarzen Tube und mit einem fantastischen Mini-Booklet. Auffällig, knallig und außergewöhnlich sind nicht nur die grandiosen Whiskys, sondern auch das Design. Inspiriert von einer Zeit, in der die Begeisterung für unglaubliche Geschichten noch bis ins Unendliche reichte. In der das Unbekannte und Fantastische die Augen hat leuchten lassen. Machen Sie sich bereit, von den Amazing Whiskies in ihren überwältigenden Bann gezogen zu werden."
Die ganze Aufmachung und die Werbung erinnert mich stark an die alten Action-Comics aus den 70ern, wie Batman, Fantastic Four, Silver Surfer etc. (Ja, daran kann ich mich noch erinnern. Ich bin so alt). Man darf gespannt sein, welche Whiskys in dieser 30-Episoden-Geschichte auftauchen und wie erstaunlich, beeindruckend oder unglaublich sie sind.
58,8 % Vol. - Single Malt - Sherry Butt - 270 Flaschen - nicht gefärbt, nicht kühlgefiltert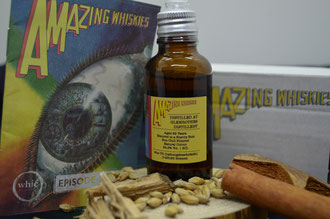 Farbe: Mahagoni.
Aroma: Kräftige Rosinennoten, brauner Zucker, Aprikosen. Altes, feuchtes Leder und altes Holz, leicht modrige Kelleraromen. Dazwischen Karamell, Kirschen und Kaffee. Getrieben werden die Aromen von dem hohen Alkoholgehalt, der sich aber nicht störend bemerkbar macht. 
Geschmack: Kräftiger, dunkler Antritt mit geröstetem Kaffee und dunklem Karamell. Dann Rosinen, Kirschen und ein wenig gesalzene Mandeln. Leicht erdige Töne mischen sich dazu. Dahinter wird es würziger. Eichenaromen, dunkle Schokolade und dann wieder Früchte. Überreife, zuckersüße Früchte, wie Datteln und Feigen. Das Mundgefühl ist wärmend, aber trocken. Mit ein wenig Wasser finden sich nussige Aromen und die Süße nimmt zu.
Abgang: Der Tropfen bleibt einem lange erhalten und legt sich mit einer schönen Süße und einer angenehmen Würze über die Zunge und verweilt.
Fazit: Was für ein Brett. Ich hatte die Befürchtung, dass es sich einmal mehr um eines dieser extremen Sherry-Monster handelt, die nur noch entfernt an Whisky erinnern. Weit gefehlt. Es ist deutlich eine Sherry-Reifung, aber mit vielen weiteren Facetten, die einen guten Sherry-Whisky (für mich) ausmachen, mit Kraft, Komplexität und Tiefe. Jeder, der eine der 270 Flaschen bekommen hat, kann sich glücklich schätzen, denn die Abfüllung war nach wenigen Stunden bereits vergriffen. Den Preis von 150 € würde ich als durchaus fair bezeichnen. Man darf gespannt sein, welche weiteren Abfüllungen es in diese Reihe schaffen.