(enthält nicht-bezahlte Werbung aufgrund Produktpräsentation ) 
Mit diesem Ballechin eröffnet whic.de eine neue Abfüllungsserie unter dem Namen 'The War of the Peat'. Dabei handelt es sich um eine 13-teilige Reihe aus rauchigen Single Malt Scotch Whiskys. Dieser 12-jährige Ballechin wurde in Zusammenarbeit mit Signatory Vintage ohne Farbstoff, ohne Kühlfiltration und in Fassstärke abgefüllt. Insgesamt sind 305 Flaschen verfügbar. 
Warum The War of the Peat? (Auszug aus der Presseerklärung)
Manche Aromen scheinen wie nicht von dieser Welt. Geschmacksexplosionen voll brachialer Rauchnoten, Motoröl und Speck. Für diese Whiskys, die anecken und das Extreme darstellen, brauchte es auch den richtigen Namen und das richtige Aussehen, was diese Aromenspektakel einfing. Als Sience Fiction Fan fand ich Inspiration bei einem literarischen Klassiker "Der Krieg der Welten". Denn so extrem und anders Torfrauch auch wirkt, so klassisch und traditionsreich ist dieses Aroma im Whisky. Daher veröffentlichen wir 13 speziell ausgewählte Rauchwhiskys unter dem Namen THE WAR OF THE PEAT." – Arne Wesche, Geschäftsführer, whic Ug (haftungsbeschränkt)
Deshalb wählte whic für die Labels Darstellungen von den Invasoren aus dem H.G. Wells Roman "Der Krieg der Welten". So wird aus The War of the Worlds nun The War of the Peat.
59,3 % Vol. - Single Malt Whisky – Refill Sherry Hogshead – 305 Flaschen - nicht gefärbt, nicht kühlgefiltert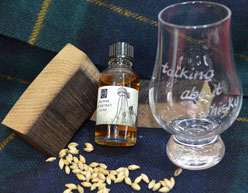 Farbe: Dunkler Bernstein
 
Aroma: Als erstes springt mir frischer Bacon (ungegrillt) in die Nase, gefolgt von reifen, süßen Früchten. Pflaumen, Nektarinen, Melonen. Dazu kommen dezente würzige Noten, die von der Fruchtsüße bedeckt sind. Ganz im Hintergrund finde ich noch ein wenig phenolische Töne.
 
Geschmack: Süße Rauchnoten mit etwas weniger Speck, als in der Nase, getragen von den spürbaren 59% Alkohol, die aber gut eingebunden sind. Deutliche Sherrynoten mit roten Früchten und Nuss-Nougat. Eine schöne Eichenwürze rundet den Geschmack ab.
 
Abgang: Ein langer, würziger Abgang, der ganz zum Schluss noch Kaffee-Aromen hinterlässt. 
 
Fazit: Ein wunderschöner, voller Vertreter der rauchigen Edradour-Marke.