(enthält nicht-bezahlte Werbung aufgrund Produktpräsentation )
Ein neuer Krieger taucht auf dem Schlachtfeld auf. Nach einer kleinen Pause gibt es wieder Bewegung in 'The War Of The Peat'. Diesmal wieder ein Inselbewohner von Islay. Ganze 5 Jahre jung. Aus einer Brennerei, die eher weniger Rauch im Portfolio hat, außer sie heißen mit Nachnamen Staoisha. Das Fass hat eine besondere Behandlung erhalten. Es ist ein sogenanntes "dechar & rechar" Fass. Hier wurde die erste Kohleschicht entfernt und das Fass erneut ausgebrannt. 
60,4 % Vol. - Single Malt - de-char&re-char Hogshead - 295 Flaschen - nicht gefärbt, nicht kühlgefiltert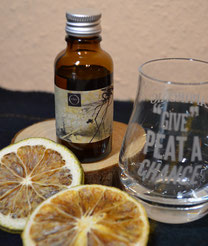 Farbe: Dunkles Gold
Aroma: Kräftige, süßliche Rauchnoten. Überreife Bananen. Zitrusnoten von reifen Limetten. Ich hab auch eine Spur Kaktusfeige in der Nase. Chilischärfe liegt über allem. Eine schöne Candy-Süße ist dabei.  
Geschmack: Wieder kräftiger Rauch mit dezentem Phenol. Dann kommt die Fruchtsüße, gepaart mit braunem Zucker und Ingwer. Ein mundfüllendes und mundwässerndes Erlebnis.
Abgang: Langer, süßer und feuriger Abgang, äußerst angenehm.
Fazit: Trotz seiner Jugend ist dieser Whisky ein volles, mehrschichtiges Vergnügen. Die Jugend gibt ihm Kraft und Feuer.