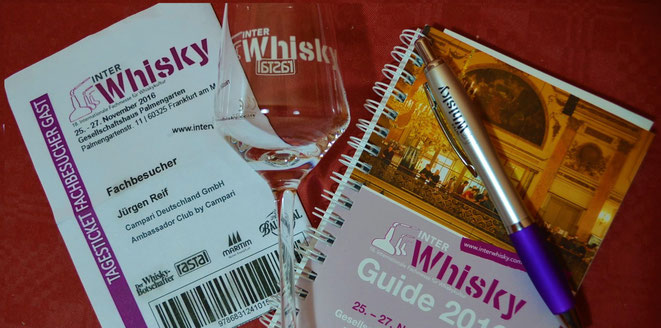 Am vergangenen Sonntag war ich zum ersten Mal auf der InterWhisky bzw. überhaupt auf einer großen Whiskymesse außerhalb meines 'normalen' Einzugsgebietes (Stuttgarter Raum). Das Ambiente im Gesellschaftshaus Palmengarten war sehr ansprechend. Der Platz zwischen den Ständen auf der Hauptfläche war ausreichend, so dass man ohne wesentliches Gedrängel durch den Raum und an die Stände kam. Nur auf der Empore wurde es gelegentlich eng. Die Auswahl an Whisky/Whiskey war mehr als ordentlich, wobei ich so viel Neues auch nicht entdecken konnte. Erwähnenswert fand ich persönlich den Glen Grant 12, den Timorous Beasty 21, die Troika der 10er von Bruichladdich und den Dalmore Vintage 2006. Die Glenfiddich Experimental IPA und Project XX zähle ich hier schon nicht mehr zu den Neuen.  
Ich hatte mir vorgenommen, nur wenig direkt vor Ort zu probieren und dafür einiges in 2cl-Fläschen abgefüllt mit nach Hause zu nehmen. Dumm nur, wenn man dann den Trichter vergisst. Dafür habe ich von der Messe eine neue, ausgezeichnete Idee mitgenommen: statt Trichter eine Plastik-Spritze. Ist noch viel praktischer zum Umfüllen, als ein Trichter. 
Probiert habe ich die folgenden Tropfen: 
Kininvie 23 Jahre 42.6 % Vol. Hogsheads & Sherry Butts 
ein leckerer Tropfen, aber mit >120€ für 350ml etwas teuer 

Glen Grant 12 Jahre 43.0 % Vol. 
Ordentlicher Whisky mit gutem PLV (ca. 30€) 

Glenmorangie 18 Jahre 43.0 % Vol Oloroso Sherry Casks Finish 

Timorous Beasty 21 Jahre DL 46.8 % Vol. Sherry Casks Blended Malt 
nach dem 40er die zweite Sonderabfüllung mit Altersangabe 

The Epicurian DL 46.2 % Vol. Blended Malt 
interessanter Whisky aus Lowland Malts 

Balvenie TUN 1509 Batch 3 52.2 % Vol.  
ein eindrucksvoller Malt zusammengestellt aus 31, von David Stewart ausgewählten Fässern 
12 Sherry Fässer, abgefüllt zwischen 1989 und 1992, 11 Hogsheads Bourbon Fässer, abgefüllt 1989 und acht Refill-Bourbon Fässer, abgefüllt 1992 und 1993 – mein Highlight der Messe 

Bruichladdich The Laddie Ten 2nd Edition 10 Jahre 50,0 % Vol. 

Port Charlotte 10 Jahre 2nd Edition 50,0 % Vol. 

Octomore 2006 10 Jahre 2nd Edition 57,3 % Vol. First Fill Bourbon, Grenache Blanc Casks 

Glenburgie 1995 20 Jahre SV 50,9 % Vol.  
Abfüllung für 'Der Whisky Botschafter' 

 Dalmore  Vintage 2006 10 Jahre 46,0 % Vol. 
Untypisch für Dalmore nur in Bourbon-Fässern ( 8 Jahre First-Fill, 2 Jahre Refill) gereift und  mit 46% abgefüllt, nur für den deutschen Markt 

 Jim Beam Rye 40,0 % Vol. 
Insgesamt ein schöner Messebesuch. Viele interessante Leute getroffen. Gute Gespräche geführt. Allerdings hatte ich durchaus noch mehr Aussteller erwartet (z.B. Diageo). Auch mit Messeangebote war es eher mau (ich hab keines gefunden).  Dafür habe ich eine Einladung zum Whisky Spring im Februar 2017 in Schwetzingen.