(enthält nicht-bezahlte Werbung aufgrund Produktpräsentation )
Im August sah es sehr lange nach einem ruhigen Monat aus, bis mich eine E-Mail von Leonie Klinkhammer (whic.de)  in Versuchung brachte. Dann musste natürlich noch die auslaufende Club-Mitgliedschaft bei Whisky.de ausgenutzt werden und bei der Auktion ging ich auch wieder nicht leer aus.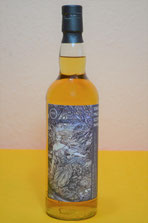 Nymphs of Whisky - Orkney 19 Jahre - whic.de
Der 19-jährigen Nymphe aus dem hohen Norden Schottlands konnte ich einfach nicht widerstehen. In Fassstärke aus dem Refill-Sherry-Fass klang einfach zu verführerisch.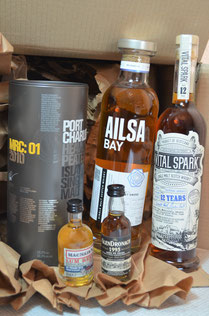 Port Charlotte MRC:01 Heavily Peated 7J-2010
Diesen Port Charlotte habe ich in Stuttgart auf der 0711 Spirits kennengelernt und war begeistert. Er war mein Whisky des Monats Februar 2019. Die Flasche stand seitdem auf meinem Wunschzettel und war nun endlich fällig.
Ailsa Bay - Sweet Smoke
Auch vom Neuzugang bei William Grant & Sons in den Lowlands wollte ich schon länger eine Flasche haben. Der Sweet Smoke klang lecker, vor allem mit den neuen Kennzahlen sppm und pppm.
Vital Spark Batch No. 2 Heavily Peated 12 Jahre   Meadowside
Und noch ein Rauchiger von ungewisser Herkunft.  Dieser mit 12 Jahren, ein 10-jähriger, stark rauchiger Whisky mit einer Nachreifung in Sherry-Fässern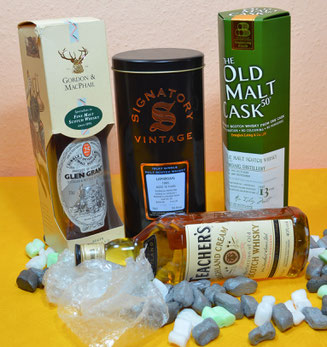 Glen Grant25-year-old GM Licensed Bottling
Ein ordentlich reifer Glen Grant von Gordon & MacPhail. Nicht ganz günstig, aber auch nicht mehr so einfach zu bekommen.
Laphroaig1995 SV Cask Strength Collection
Auch meine Laphroaig-Sammlung hat wieder Zuwachs bekommen. Diesmal ein 16-jähriger (der demnächst noch von Amazon Gesellschaft bekommt)
Laphroaig1996 DL Old Malt Cask
Und noch einer aus der Familie. Im zarten Alter von 13 Jahren aus dem Hause Douglas Laing.
Teacher's Highland Cream Perfection of Old Scotch Whisky
Diese Flasche war die bisher günstigste aus der Auktion. Für schlappe 5 Euro einen Blend aus dem Jahre 1992. Der darf das Antiquariat bereichern.