(enthält nicht-bezahlte Werbung aufgrund Produktpräsentation )
Diese Ausgabe eines Aultmore kommt von dem unabhängigen Abfüller 'Keeper of the Spirit'. Dahinter stehen Robert Kautsch aus Rheinland-Pfalz und Mike Ritschard aus der Schweiz. Angeboten werden hauptsächlich Fassanteile und teilweise auch Einzelflaschen. Es besteht auch die Möglichkeit, Mitglied des Clans zu werden. Mir hat Andreas Ames (Andreas' Whisky Vitrine) das Sample zukommen lassen. Als erstes aufgefallen ist mir die exponierte ungewöhnliche Altersangabe 9Y 4M 4D (9 Jahre, 4 Monate, 4 Tage). Diese Zeit lag der Whisky in einem Refill Hogshead und zwar in einem Ex-Springbank Refill Sherry Hogshead.
61,2 % Vol. - Single Malt - Refill Sherry Hogshead - Fass# 900022 - 272 Flaschen - nicht gefärbt, nicht kühlgefiltert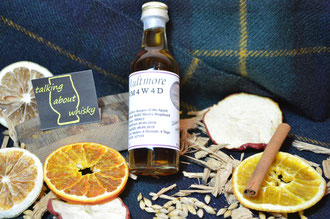 Farbe: Bernstein
Aroma: Im ersten Moment deutliche Vanillenoten mit überreifen Früchten. Dann wird es würziger. Leichte Röstaromen finden sich, zusammen mit Nussaromen. Kurzzeitig zeigen sich erdige Töne, fast muffig. Diese sind aber schnell wieder verflogen und machen einer Karamell- und Candy-Süße Platz. Dann wieder geröstete Nüsse. Mit der Zeit entwickeln sich fruchtige Aromen. Reife Kirschen zusammen mit Schokolade. Auch ein wenig Aprikose kann ich finden.
Geschmack: Cremig weicher Antritt mit Nüssen, Honig und dunklen Kirschen. Eine wärmende Schärfe macht sich breit. Eichenwürze und zarte Röstaromen begleiten die Honigsüße. Der Honig entwickelt sich langsam zu dunklem Karamell und auch dunkle Schokolade.
Abgang: Lang und ausgesprochen würzig verabschiedet sich der Tropfen. Dunkle Schokolade und Kaffee verweilen im Mund.
Fazit: Ein schmackhafter Whisky mit schöner Süße und ausgeprägter Würze. Das verwendete Springbank-Fass mach sich eher nicht bemerkbar (vielleicht war es ja ein Hazelburn ;-) ), denn auch die Röstaromen erinnern nicht daran. Auf jeden Fall bin ich Andreas dankbar, dass ich diesen Whisky probieren konnte.