Am Donnerstag habe ich wieder an einem Whisky-Tasting teilgenommen. Veranstalter war dieses Mal das Weinhaus Bronner in Ludwigsburg, dort, wo ich vor einigen Wochen ein paar leckere Whiskys mit ordentlichen Umbau-Rabatt erstanden habe (siehe hier) 
Referent des Abends war Michael Gradl aus Nürnberg (Gradls Whiskyfässla). Er präsentierte die Whiskys in seiner gewohnten humorvollen und kurzweiligen Art. Whiskywissen wird vermittelt gespickt mit teils recht schlüpfrigen Witzen. Langweilig wird es auf jeden Fall nicht. 
Die Hauptdarsteller des Abends waren aber natürlich die vorgestellten Whiskys, jeder für sich ein außergewöhnlicher Tropfen und teilweise recht hochprozentig.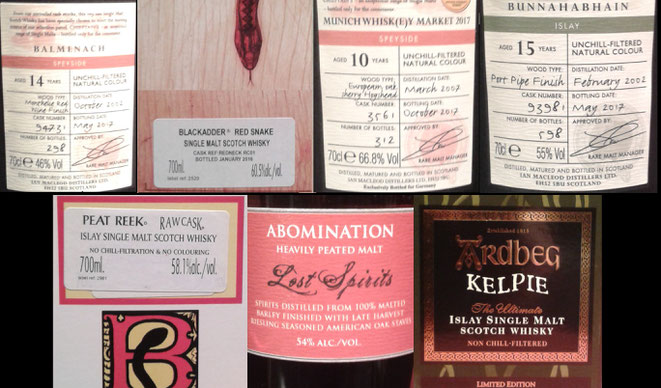 - Chieftain's Balmenach Red Wine Cask 14 Jahre, 46% Vol. 
- Blackadder Red Snake Raw Cask Redneck Bourbon Cask, 60,5% Vol. 
- Chieftain's "MWM Munich Edition 2017" 10 Jahre, 66,8% Vol. 
- Chieftain's Bunnahabhain Port Pipe Finish 15 Jahre, 55,0% Vol. 
- Blackadder Peat Reek Sherry Cask 10 Jahre (Islay), 58,6% Vol. 
- LostSpiritDistillery Abomiation "The Crying of the Puma", 54,0% Vol. 
- Ardbeg Kelpie, 46% Vol. 
Meine Favoriten waren der Chieftains's MWM Edition, ein scharfes, intensives Karamellbonbon, und der Blackadder Red Snake, frische, fruchtige Vanille pur. 
Der Chieftain's Balmenach konnte mich dagegen überhaupt nicht überzeugen