Letztens erreichte mich wieder ein kleines Päckchen von deinwhisky.de. Die drei Samples, die Sebastian Becker mir zukommen ließ, bringen zusammen ganze 72 Jahre Reifung in die Flaschen. Von dem Ältesten durfte ich schon mal eine kleine Probe genießen, deshalb freue ich mich auf den schon ganz besonders. Alle drei Whiskys kommen von unabhängigen Abfüllern aus Deutschland, wobei ich von zweien bisher noch nichts im Glas hatte. Die Whiskys wurden exklusiv für deinwhisky.de abgefüllt.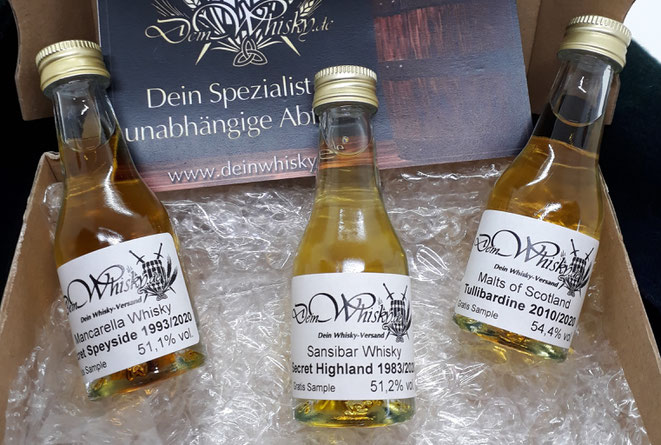 Hier nun meine Eindrücke zu den Whiskys.
Zum Ersten einen 10-jährigen Tullibardine aus dem Hause Malts of Scotland aus Paderborn. Er ist der Jüngste in der Reihe und tatsächlich mein erster Tullibardine. Es steht zwar seit zwei Jahren eine Flasche im Schrank, aber die ist noch geschlossen.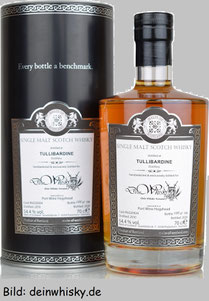 Tullibardine 2010/2020 - Malts of Scotland
54,4 % Vol. - Single Malt - 10 Jahre - Port Wine Hogshead - Fass# 20024 -  198 Flaschen - nicht gefärbt, nicht kühlgefiltert
Farbe: Gold
Aroma: Säuerliche Trauben. Helle, noch leicht unreife Früchte und Zitrusaromen. Langsam schleicht ein schöner Blütenhonigduft in die Nase, zusammen mit etwas Vanille. Die hellen Weinnoten sind vorherrschend. Es tauchen weitere säuerliche Fruchtaromen auf; Sauerkirschen, rote Johannisbeeren und auch Stachelbeeren. Eine Ingwerschärfe wird deutlich spürbar.
Geschmack: Es beginnt mit Vanille. Dann folgen gezuckerte helle Früchte. Die Ingwer-Schärfe drängt sich in den Vordergrund und begleitet eine helle Honigsüße. Mit der Zeit zeigen sich die Weinaromen und bleiben präsent.
Abgang: Der Abgang ist recht kurzweilig mit einer hellen Süße.
Fazit: Ein leichtes, säuerlich-süßes Erlebnis, welches nicht ganz auf meiner Linie liegt. Er ist sicher ein passender Whisky für Freunde heller Wein- und Fruchtaromen. Durchaus auch geeignet als leichter sommerlicher Genuss.
***
Zum Zweiten um einen Speysider, dessen konkrete Herkunft nicht genannt wird. Ganze 26 Jahre durfte es in einem Sherry Hogshead reifen. Dieser Whisky kommt von dem Unabhängigen Abfüller Mancarella Whisky aus Mötzingen. Obwohl der Standort nur gut eine Autostunde entfernt von  mir liegt, hatte ich bisher noch keine der Abfüllungen von Macarella probiert. Sehr wohl habe ich aber schon von den außergewöhnlichen Abfüllungen gehört, die von dort kommen sollen. Nun habe ich endlich Gelegenheit, mich selbst davon zu überzeugen. Erst vor ein paar Tagen haben deinwhisky.de und Mancarella Whisky den Start einer Joint Bottling Serie bekannt gegeben. Die ersten beiden Abfüllungen der Serie sind bereits erschienen.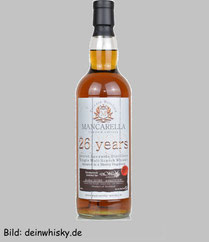 Secret Speyside Distillery 1993/2020 - Mancarella Whiskys
51,1 % Vol. - Single Malt - 26 Jahre - Sherry Hogshead - Fass# 36 - 349 Flaschen - nicht gefärbt, nicht kühlgefiltert
Farbe: Bernstein
Aroma: Junges, helles Obst, in der Hauptsache Äpfel. Dann folgen Karamell und Malz. Nussige Noten kommen dazu. Die fruchtige Süße dominiert. Der Alkohol ist auch nach 26 Jahren noch präsent, wirkt aber nicht störend, sondern geschmackstragend (ich bin gut im Wörter erfinden ;-) ). Langsam zeigen sich verhalten ledrige Töne und etwas altes, trockenes Holz. Ein wenig Kakao, der sich mit der Zeit zu Kaffee wandelt. Es wird immer würziger, aber die fruchtige Süße bleibt präsent.
Geschmack: Er umschmeichelt weich und cremig die Zunge (anders kann dich das nicht beschreiben). Es folgt eine deutliche Schärfe, die nach kurzer Zeit einer kräftigen Eichenwürze Platz macht. Dann zeigen sich Früchte. Reifes Steinobst, rote Äpfel. Hintergründig finde ich Rosinen, dazu Haselnüsse. Es wird trocken, fast adstringierend, im Mund. Ein klein wenig Wasser macht den Eindruck noch cremiger und voller. Im Mund dominieren weniger die fruchtig-süßen Töne, sondern eher die würzig-nussig-malzigen Aromen.
Abgang: Der Abgang ist nicht so ausdauernd, wie ich erwartet hatte. Aber die Mischung aus Würze und malziger Süße begleitet doch noch eine Weile.
Fazit: Ein herrlicher Single Malt aus einer Speyside-Brennerei, der alles in sich vereint, was man noch vor einiger Zeit dem Speyside-Charakter zugeschrieben hat. Eine wunderbare Sherry-Abfüllung mit Früchten, Nüssen, Würze und Malz. Eine enorme Komplexität, wie ich sie in der letzten Zeit eher selten gefunden habe. Der Whisky braucht Zeit, belohnt einen aber dann mit immer neuen Aromen. Selbst das leere Glas bringt Neues hervor. Es riecht nach glimmendem Holz, über dem Äpfel schmoren.
***
Der Dritte im Bunde ist so alt, wie die beiden Anderen zusammen. Bei dem Whisky aus der Reihe 'The Clans Label' von Sansibar Whisky handelt es sich auch um eine Abfüllung aus einer nicht genauer benannten Destillerie, dieses Mal aus den Highlands. Ganze 36 Jahre wurde er in einem Hogshead gereift, bevor er 2020 in die Flasche durfte.
Secret Highland Malt 1983/2020 - Sansibar Whisky
51,2 % Vol. - Single Malt - 36 Jahre - Hogshead - 239 Flaschen - nicht gefärbt, nicht kühlgefiltert
Farbe: Goldtöniger Bernstein
Aroma: Sehr intensive Nussaromen und reife, süße, helle Früchte; Äpfel, Birnen, Aprikosen und Pfirsich. Süßer Honig und Bienenwachs. Dann mischt sich eine dezente Chili-Schärfe unter das Obst. Kakao und Kardamom kommen dazu. Auch etwas trockenes Holz findet sich. Volle, tiefe und komplexe Aromen. 
Geschmack: Karamell-Süße, die direkt von kräftiger Würze und der Chili-Schärfe begleitet wird. Die Früchte stehen hier etwas hinten an. Es finden sich Trauben und Rosinen. Dazu kommen Haselnüsse und noch nicht ganz reife Walnüsse mit der leicht bitteren Schale. Orangenzesten und Bitterschokolade. Die Aromen sind sehr trocken und zeigen sich leicht holzig und wachsig.
Abgang: Der Nachklang zeigt sich lang, würzig und trocken. Die Süße ist nicht sehr nachhaltig.
Fazit: In der Nase nachhaltig und komplex. Er lädt zu einer ausgedehnten 'Schnüffelstunde' ein. Im Mund ist er immer noch intensiv, allerdings nicht mehr so vielschichtig. Das Fass übernimmt hier die Kontrolle und dominiert mit Würze und bitteren Nuancen. Für meinen Geschmack wäre mir etwas mehr von der fruchtigen Süße aus der Nase auch im Mund lieber gewesen. Das trübt für mich ein wenig den ansonsten überragenden Eindruck.
***
Insgesamt waren das ein guter und zwei herausragende Whiskys. Die Qualität der Abfüllungen reiht sich in die bisherigen Exklusiv-Abfüllungen für deinwhisky.de ein, die ich bisher verkosten durfte. Drei davon landeten anschließend in meiner Sammlung. Drei davon, jetzt vermutlich vier, wurden als Whisky des Monats gekürt. Ganz offenbar hat Sebastian Becker und sein Team bei der Auswahl der Fässer für die Exklusiv-Abfüllungen ein ausgesprochen glückliches Händchen.
Weitere Exklusiv-Abfüllungen von deinwhisky.de:
Tobermory 2008/2019 - Oloroso Sherry Cask - Claxton's
Tobermory 2008/2019 - PX Sherry Octave - Claxton's