(enthält nicht-bezahlte Werbung aufgrund Produktpräsentation )
Die vierte Ausgabe der Reihe 'The War of the Peat' wird auf der Produktseite als Scheunenbrand mit Schokorosinen beworben. Ziel der Invasionswelle ist dieses Mal die Isle of Mull. Der 12-jährige Ledaig (die rauchige Marke der Tobermory Destillerie) reifte in eine Refill Sherry Butt. Der Whisky wurde wieder von Signatory Vintage exklusiv für whic.de abgefüllt. Die Abfüllung umfasst ganze 642 Flaschen und ist die bisher teuerste  Ausgabe, daher könnte sie etwas länger verfügbar sein, als die Vorgänger. 
58,5 % Vol. - Single Malt - Refill Sherry Butt - Fass# 700559, 642 Flaschen - nicht gefärbt, nicht kühlgefiltert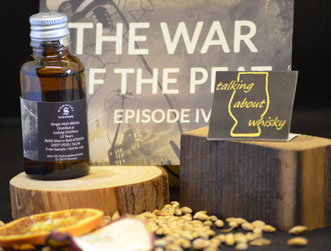 Farbe: Gold.
Aroma: Frischer Holzfeuer-Rauch mit ein klein wenig Pflasterduft. Die versprochenen Räuchernoten kann ich nicht finden. Dafür Salzkaramell, Vanille und helle Früchte. Grasige Noten und trockenes Stroh. Dazu kommt noch eine kräftige Chili-Schärfe und Gewürze; Muskatnuss, rosa Pfeffer.
Geschmack: Weicher, cremiger Antritt mit viel Vanille und Karamell. Dann kommt die Chili-Schärfe, dicht gefolgt von dem frischen Holzrauch und dezenten Bittertönen. Zitrusaromen zeigen sich im Hintergrund. Ein paar Fruchtnoten arbeiten sich nach vorne. Dunkler und reifer, als in der Nase.
Abgang: Die Vanille-Süße und etwas von dem Holzrauch halten sich lange im Mund.
Fazit: Ein wirklich voluminöser, intensiver und komplexer Ledaig, mit Würze, Süße und Rauch. Der Sherry-Einfluss ist eher gering, was Sherry-Liebhaber wissen sollten. Insgesamt auch für meinen (nicht-Ledaig-) Geschmack gefällig.