40 % Vol. - First Fill Ex-Bourbon - gefärbt - kühl gefiltert 
 
Der Founder's Reserve ist der Nachfolger des 12-Jährigen auf dem deutschen Markt. Er soll an den Gründer George Smith erinnern, der einen Whisky von so außergewöhnlicher Qualität  herstellte, dass er bald weithin bekannt war, als Whisky, der so ist, wie ein Malt sein sollte (so die Aufschrift auf der Verpackung) 
'The Glenlivet Founder's Reserve brings new life to the time-honoured and celebrated style of The Glenlivet'… und weiteres, ziemlich hochtrabendes Marketing-Getexte.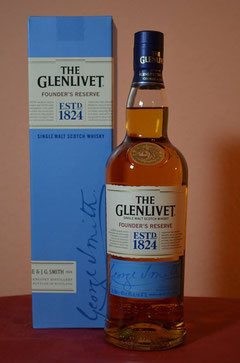 Farbe: Helles Gold (gefärbt) 
 
Aroma: Sehr fruchtig mit süßer Orange, roten Johannisbeeren und Stachelbeere, sehr leicht. 
 
Geschmack: süße Vanille, fruchtig, wieder die Orange, aber nun eher mit Apfel und Pfirsich. Erstaunlich cremig. 
 
Abgang: Relativ kurz, süß, cremig und mild. 
 
Fazit: Recht milder und einfacher Einsteiger-Whisky. Zumindest in meiner Erinnerung ist der 12er (der alte, nicht der neue FirstFill) etwas komplexer und tiefgründiger. Anfangs war der Founder's Reserve teurer als der 12er. Ich glaube, die Preise haben sich zwischenzeitlich etwas nach unten korrigiert.