(enthält nicht-bezahlte Werbung aufgrund Produktpräsentation )
Für den 02. Dezember 2020 hatte Mareike Spitzer von irish-whiskeys.de zu einem exklusiven online Tasting der Whiskeys von Wayward Irish Spirits eingeladen. Wayward Irish Spirits ist ein Whiskey Bonder Unternehmen mit langer Familientradition. Die Firma baut momentan auch eine eigene Whiskeybrennerei.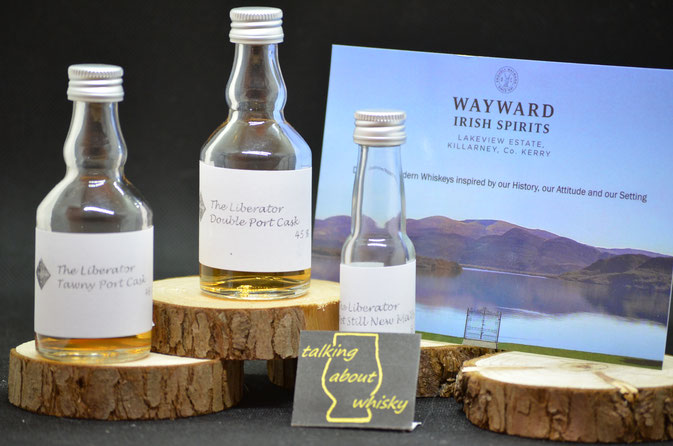 Für die Verkostung erwarteten uns zwei The Liberator Whiskeys, die in Portweinfässern gefinisht wurden und in exklusiven kleinen Auflagen erhältlich sind. Des Weiteren gab es die exklusive Möglichkeit, einen Pot Still New Make zu verkosten, der bereits aus der eigenen Gerste des Landsitzes produziert wurde.
Maurice O'Connell, Gründer von Wayward Irish Spirits und Julia Nourney, Spirituosenexpertin geleiteten uns durch dieses Tasting, moderiert von Mareike.

Zu Beginn stellte uns Maurice die Wayward Irish Spirits vor. Mit Stolz und Enthusiasmus erzählte er uns von der langen und durchaus interessanten Geschichte und der idyllischen Lage im Lakeview Estate am Lough Leane bei Killarney. Er war so mit Begeisterung dabei, dass er von Mareike mit Hinweis auf die Zeit ein wenig eingebremst werden musste.

Teil der Geschichte der Familie O'Connell war auch der Politiker und Freiheitskämpfer Daniel O'Connell. Er trug den Beinamen "The Liberator" und dient als Namensgeber für den Whisky. 
Wayward bezeichnet sich selbst als Whiskey-Bonder plus. Sie kaufen nicht nur Whiskey von vielen Destillerien, reifen ihn und blenden ihn, sondern sie bauen eigene Gerste an, lassen sie bei der Great Northern Distillery destillieren und lagern ihn dann in den alten Mauern von Lakeview Estate. Das sehr wechselhafte Lakeview-Mikroklima bietet fantastische Reifebedingungen für den Whisky. Zur Reifung verwenden sie Ex-Rum-, Ex-Bourbon-, Ex-PX-  aber derzeit meistens Ex-Port-Fässer. Das Blenden und Verdünnen der Abfüllungen erfolgt wohl ganz langsam.
Hier nun die Beschreibung der verkosteten Whiskeys und de Spirits (mehr oder weniger Gedächtnisprotokoll. Angaben ohne Gewähr)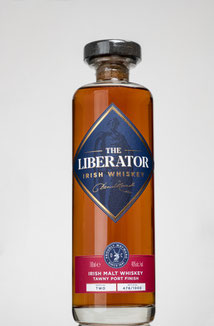 The Liberator Tawny Port
Eine Mischung aus 2 Single Malts, ein Great Northern 2015 und ein Cooleys 2006. Zusammen ein Finish in frischen Tawny Port Casks für 9 Monate.
Reife dunkle Frucht, Banane, Kandiszucker, warme Zuckerbutter. Kandierte Früchte, nach und nach wird er würziger. Mit etwas Wasser finde ich auch zarte Ledernoten und dunkle Schokolade.
The Liberator Double Port - Small Batch - 45 % Vol.
Ein Premium Blend mit 42% Malt (Great Northern Distillery, Bourbon, Ruby und Tawny) und 58% Grain 2015 (Cooley, Finish in Ruby Port)
In der Hauptsache Citrusnoten mit Chiliaroma, aber ohne Schärfe. Dazu eine trockene Würze, Vanille und Nuss.
The Liberator Pot Still New Make 
Destilliert in 05/2020 auf einer Potstill mit 63 % Vol. 
Komplett 100% eigene Gerste. Mischungsverhältnis 50/50 malted/unmalted
Cremig weich, fruchtig, malzig und getreidig
Ich möchte mich nochmal ganz herzlich bei Mareike für die Einladung zu diesem Online-Event bedanken. Es war eine interessante und lehrreiche Veranstaltung. Wieder einmal durfte ich neue, interessante Whiskeys kennenlernen. Der Tawny-Port konnte mich wirklich überzeugen und darf vermutlich bald meine Reihe an irischen Whiskeys erweitern.
Hier noch der Link zu einem Live-Talk, den Mareike mit Maurice gemacht hat (Video)