(Beitrag enthält Werbung durch Namensnennung und Produktpräsentation)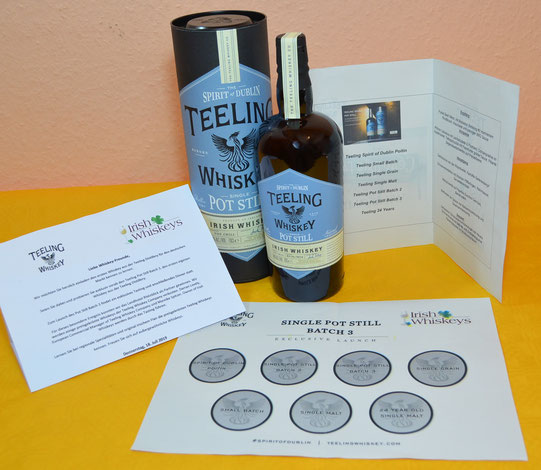 Im Mai erreichte mich eine Einladung von Irish Whiskeys zum Launch-Event für den ersten eigenen Teeling Single Pot Still Irish Whisky, der in Deutschland verfügbar sein wird. Als Location für dieses exklusive Tasting und das anschließende Dinner wurde das Landhotel Rhönblick ausgewählt.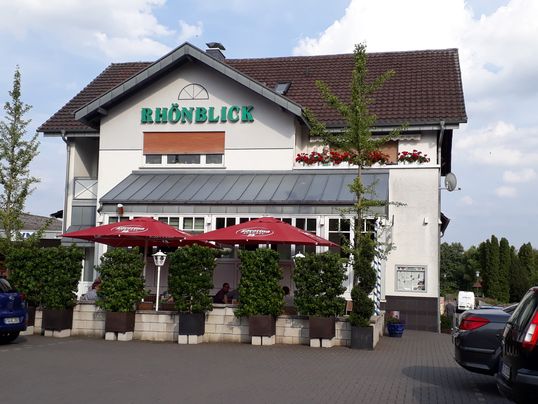 Dieser neue Single Pot Still Whiskey ist der erste in Dublin destillierte irische Whiskey seit fast 50 Jahren (so die offizielle Pressemitteilung). Die ersten 100 Flaschen wurden letzten September zu wohltätigen Zwecken versteigert, wobei Flasche 1 einen Erlös von £10.000 erzielte. Die ersten Batches waren ab Oktober letzten Jahres nur in Irland erhältlich. Nicht zuletzt Mareikes Verbindung zu Teeling ist es zu verdanken, dass Batch 3 nun in Deutschland verfügbar ist.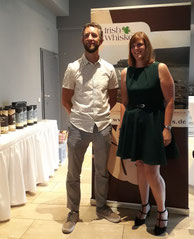 Nach der Begrüßung und Einleitung durch Mareike Spitzer, Owner of Irish Whiskeys wurden wir von Darran Lovely, European Commercial Manager of Teeling Whiskey Company durch das Tasting geführt, in dem wir einige der Teeling Whiskeys verkosten durften.
Begonnen wurde mit drei Standard-Abfüllungen der Destillerie. Zum Ersten der Single Grain, dem 'Irish-style Bourbon', gemacht aus französischem Mais, gereift in kalifornischen Cabernet-Sauvignon-Fässern. Ein leichter und frischer Whiskey mit einem sehr cremigen Mundgefühl. Es finden sich rote Beeren, Vanille und würzige Noten.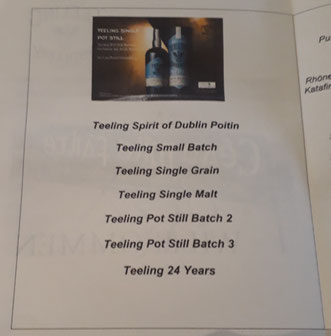 Dem Single Grain folgte der Small Batch, das Flaggschiff und Bestseller der Destillerie. Dieser Blended Irish Whiskey besteht zu 75% aus Grain und zu 25% aus Malt. Vereinigt werden die beiden Bestandteile in amerikanischen Rum-Fässern. Neben tropischen Früchten und Vanille, finden sich deutliche Rum-Noten. Er ist ebenso cremig, aber insgesamt dunkler und voller als der Single Grain. Der dritte Whiskey vor der Pause (und der Vorspeise) war der Single Malt. Ein Whiskey ohne Altersangabe, der aber wohl Fässer mit 9 - 23 Jahren enthält. Er besteht aus einem Vatting von in 5 verschiedenen Weinfässern (Sherry, Port, Madeira, White Burgundy, Cabernet Sauvignon) nachgereiften Irish Malt Whiskeys. Ich finde hier überreife Früchte, Vanille, dunkle Beeren, Eichenwürze und Schokolade.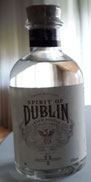 Den Übergang zum zweiten Teil der Vorstellung bildete der Poitin 'Spirit of Dublin'. Der auf 52,5 % Vol. herunterverdünnte Feinbrand (unverdünnt etwa 84 % Vol.) bildet die Grundlage für die Single Pot Still Whiskeys. Er ist dreifach destilliert und besteht zu 50 % aus ungemälzter und zu 50 % aus gemälzter Gerste. Ein solcher Feinbrand ist der beste Weg, den Brennerei-Charakter kennenzulernen. Dieser hier ist sehr fruchtig. Vornehmlich helle Früchte, wie Birne. Dazu Cerealien, frische Haselnüsse, frischer Brotteig und florale Aromen.
Das Batch 2 des Single Pot Still, abgefüllt in 01/2019 und mit einem Finish Fässern, die zuvor Weißweine aus dem Burgund enthielten zeigt eine erste Entwicklungsstufe. Fruchtig-florale Noten dominieren. Hibiskus und Lychees sind zu finden. Kurzzeitig taucht eine pfeffrige Schärfe auf, die sofort wieder verschwindet. Noten aus dem Spirit sind hier deutlich zu finden.

Nun kommt der eigentliche Star des heutigen Abends. Das Batch 3 des Single Pot Still Whiskeys durfte jeweils in First Fill Bourbon, Virgin Oak und First Fill Sherry-Fässern reifen. Abgefüllt wurde er in 06/2019.
Er ist dunkler und voller, als das Vorgänger-Batch, aber auch hier sind die Grundtöne des Spirits erkennbar. Es ist ein angenehmer, harmonischer Whiskey. Eine Flasche davon steht jetzt natürlich im Regal.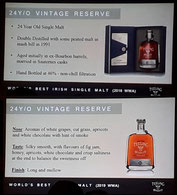 Dies war allerdings nicht der letzte Höhepunkt des Tastings. Als Finale gab es den gekrönten weltbesten Single Malt aus den World Whisky Awards 2019, den Vintage Reserve Collection 24 Year Old Single Malt. Ein absoluter Hammer. Schoko-Creme, Heidelbeeren, Erdbeeren, Aprikosen und dezente Raucharomen in der Nase. Aprikosen, deutliche Johannisbeere, Honig und versteckte Spuren von Salzkaramell im Mund. Gott sei Dank war jemand beim Kauf der letzten dort verfügbaren Flasche schneller, als ich.
Nach dem Tasting und dem Dinner ging es in den, zum Hotel gehörenden, Irish Pub, wo noch weitere Unterhaltung im irischen Flair und irischer Musik geboten wurde.
An dieser Stelle nochmals vielen Dank an Mareike Spitzer (Irish Whiskeys) für die Einladung, an Darran Lovely (Teeling Whiskey Company) für das hervorragende Tasting und Stefan Faulstich und seinem Team für das ausgezeichnete Dinner.