Traumhafte Drams. Drams von denen man nur träumen kann. Diese gab es am Sonntag, den 15.01.2017 im Irish Pub Tower's in Ludwigsburg bei dem Luxustasting 'Dream Drams' von Whisky and Pipes. 
Allerdings durfte man von diesen Drams nicht nur träumen, sondern man konnte sie auch real genießen. Das Line-Up, das Janina und Boris Hessenauer an diesem Nachmittag aufgefahren haben war vom Feinsten. Acht limitierte, rare oder sehr teure Whiskys wurden den Gästen geboten. Das Highlight war der Yamazaki Sherry Cask 2016. Ein Nachfolger des legendären 2013er, der 2014 von dem Whiskypapst Jim Murray zum 'besten Whisky der Welt' gekürt wurde. Dieser und der Earl Haakon von Highland Park sind sicherlich Whiskys, von denen die meisten Maltheads nur träumen können. Aber auch die anderen Tropfen waren qualitativ und geschmacklich ausgezeichnet gewählt.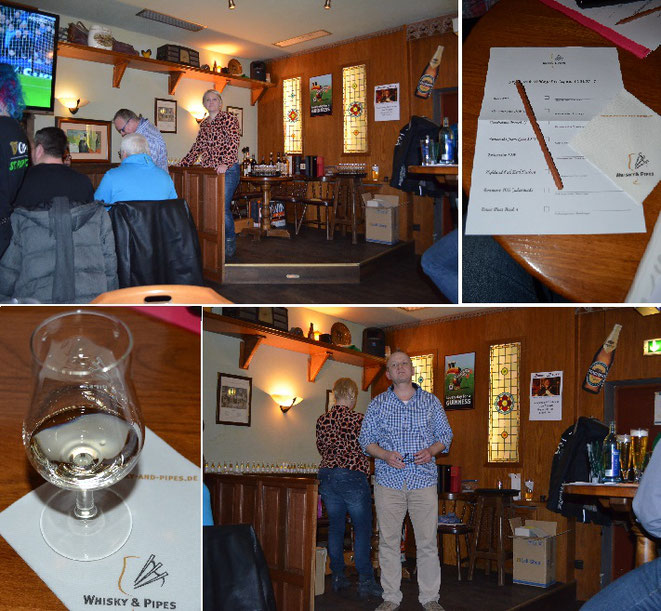 Hier alle Akteure in der Reihenfolge ihres Auftritts (im Wortlaut der Gastgeber): 
Bladnoch 1988 / 2002 Signatory Vintage 
(Eine mittlerweile EXTREM seltene Abfüllung dieser geschlossenen Destillerie! Duftet nach Zitrusfrüchten auf einer Blumenwiese! 

Glenmorangie A Midwinter Night's Dram 
(Eine limitierte Ausgabe, die mit ihrem Potpourri an Gewürzen und süßen Früchten für Wärme an kalten Wintertagen sorgen soll!) 
 
Glenfiddich Project XX 
(Eine neue Abfüllung aus der Experimental Range! 20 zum Teil sehr unterschiedliche Fässer wurden zu einem Gesamtkunstwerk vereint!) 
 
Yamazaki Sherry Cask 2016 
(EXTREM gesuchte und EXTREM teure Abfüllung und Nachfolger des legendären 2013er Jahrgangs! Bis zu 25 Jahre alt!) 
 
Fettercairn 1995 Whisky Square 
(Eine sehr gelungene Einzelfassabfüllung aus dem Bourbonfass. Würzige Eiche, frische Gartenfrüchte und Karamellcrème! Sehr lecker!) 
 
Highland Park Earl Haakon 
(Ein sehr limitierter 18-jähriger HP aus der Earl Magnus Trilogie! Ein unglaublich komplexer Whisky! Ein gesuchtes Sammlerstück! 
 
Bowmore 1997 / 2013 Cadenheads 
(Die Reifung im Barolo Rotweinfass ergänzt die angenehme Rauchnote mit Aromen von dunkler Schokolade und reifen Beeren!) 
 
Braon Peat Batch 4 The Whisky Warehouse No. 8 
(Eine der sehr seltenen unabhängigen Abfüllungen eines Lagavulin in Fassstärke! Sehr limitiert! Geschmacklich Islay pur!