Der dritte Whisky der Age of Discovery Reihe ist der großen Reise der HMS Beagle im Jahr 1831 gewidmet. Bei ihrer Weltumseglung landete sie an der Ostküste Südamerikas, wo Charles Darwin wertvolle Fossilien fand, die später seine berühmte Evolutionstheorie begründeten. 
Der 19 Jahre alte Whisky reift in Eichenfässern heran, in denen zuvor kräftige südamerikanische Rotweine der Sorten Malbec, Merlot und Cabernet Sauvignon lagerten. Das Ergebnis soll ein besonders weicher, außergewöhnlich intensiver Single Malt sein, abgerundet von warmen, würzigen Noten. 
 
40% Vol. - 19 Jahre - Ex-Bourbon, vers. Rotwein  - kühl gefiltert, gefärbt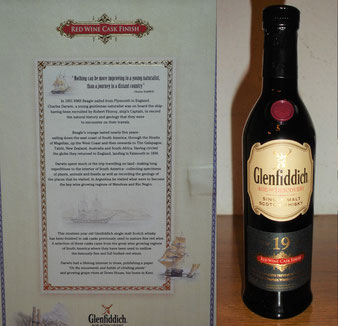 Aroma: Leicht säuerliches Aroma, an Weinmaische erinnernd. Fruchtige Aromen von Sauerkirsche, unreifer Apfel, Preiselbeere und
Zitrusfrüchten, aber auch süßere Früchte, wie überreife Pflaume, Bratapfel und Likörkirschen. Dazu Marzipan, Karamell, ein Hauch
von Milchschokolade, würziges Holz und hintergründig eine leichte schwefelige Note. 
  
Geschmack: Sehr süß im Antritt mit leichter, wärmender, pfeffriger Schärfe. Wieder die Milchschokolade und auch die Zitrusfrüchte.
Die Süße kommt hier eher von Honig, die Würze von Kräutern (Oregano). 
 
Abgang: Lang und süß, mit einer ganz leichten Eichennote. 
 
Fazit: Der Red Wine ist definitiv der Interessanteste der Age of Discovery-Reihe und meiner Meinung nach der Einzige, der den Preis von über 100€ wert ist.
Insgesamt 3 wirklich unterschiedliche Whiskys, trotz der teils ähnlichen Rahmendaten.
Generell hätten allen ein paar % Vol.  mehr (z.B. 46) gut getan.