Die Whiskymesse in Herrenberg ist für mich jedes Mal wieder ein schöner, angenehmer Samstag Nachmittag. Die Atmosphäre in dem Schauraum  im Ringhotel Hasen in Herrenberg kann man schon fast familiär nennen. Wie üblich bin ich gleich zu Beginn dort aufgetaucht, um wieder die Gelegenheit für etwas Fachsimpeln mit den Händlern zu haben.
Dieses Mal hatte ich mich auch noch für ein Tasting angemeldet. Das Thema war 'Schottlands Whisky vor Glenfiddich'. Durchgeführt wurde das Tasting von Andrea Caminneci, der natürlich einiges über die Geschichte des schottischen Whiskys vor der Vermarktung der Single Malts erzählen konnte.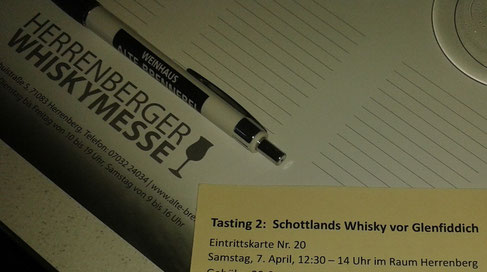 Mitgebracht hatte er lauter 12-jährige Blends aus den 1960er bis 1980er-Jahren. Dabei waren z.B. Chivas Regal, Dimple und Ballentine's. Als Zugabe gab es noch einen Black&White, zu dessen Lead-Whiskys damals auch Port Ellen gehörte. Eine sehr schöne, interessante und kurzweilige Veranstaltung.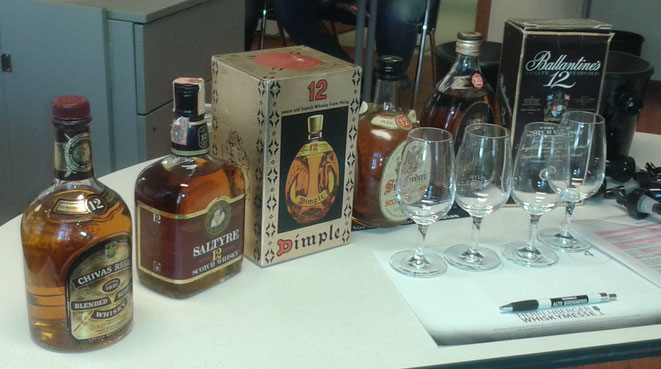 Dieses Mal habe ich mir nur ein einziges Sample mitgenommen (Compass Box No Name), die restlichen Proben habe ich direkt vor Ort genossen:
Bowmore 1996, 21 Jahre

, The First Editions

Laphroaig 2000, 16 Jahre, The first Editions

Benrinnes 2009, 8 Jahre, Preston's

Glenrothes 2011, 6 Jahre, The Cooper's Choice

Port Charlotte 2006, 11 Jahre, The Cooper's Choice

Invergordon, 1992, 26 Jahre, Best Dram

Ben Nevis, 2013, 3 Jahre, Riegger's Selection

Macduff 1997, 20 Jahre, Riegger's Selection

Glenallachie 2008 (Fassprobe), Riegger's Selection

Speyside Blended Malt, Mossburn

Blair Athol 2007, 10 Jahre, Mossburn
Ohne Bild (vergessen zu fotografieren)
Compass Box Hedonism, The Muse

Port Charlotte ? Jahre
Es gab auch einen Stand, an dem verschiedene Sherrys  (Lustau) probiert werden konnten (kostenlos!!!). Ich habe einen Fino, einen Manzanilla und (für mich zum ersten Mal) einen PX probiert. Die beiden erstgenannten, trockeneren Sherrys hatten wunderschöne grüne Apfelaromen. Der PX war wahnsinnig süß, unglaubliche Rosinen-Noten. Ein echtes Erlebnis.