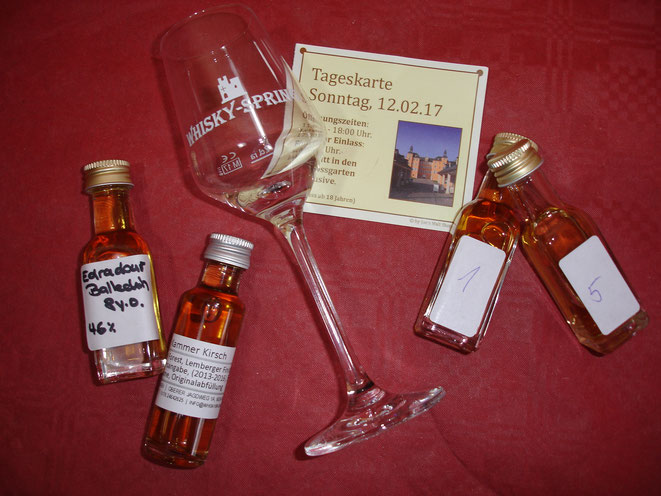 Der Empfehlung von Freunden und Ambassador-Kollegen folgend, habe ich der diesjährigen Whisky Spring im Schwetzinger Schloss einen Besuch abgestattet. Und ehrlich; ich wurde nicht enttäuscht. 
Vor großartiger Kulisse wird man gleich am Eingang von einem stilechten Dudelsack-Pfeifer empfangen. 
Die Stände sind in einem Flügel des Schlosses untergebracht. Alle straight der Nase nach, einmal runter und einmal rauf. Keine Winkel, Nischen oder unübersichtlichen Gänge. Da kann man sich auch nach ein paar Drams nicht verlaufen ;-). Und davon gibt es hier ordentlich, bei der großen Zahl an Ausstellern. Ist es anfangs, direkt nach Öffnung um 11:00 Uhr (Sonntag), noch angenehm leer und jeder Stand gut erreichbar, so füllen sich die Räume doch recht zügig. Es bleibt aber genug Zeit und Muße, nette Leute zu treffen und anregende und informative Gespräche zu führen. Es ist immer wieder schön, Menschen, die man bisher nur digital 'kennt' tatsächlich auch analog (sprich: persönlich) zu treffen. 
Mein persönliches Highlight war die Gelegenheit, die 'Schwesterfässer' meines 18er Laphroaig von Berr Bros. & Rudd kennen zu lernen. Den hatte ich Ende letzten Jahres auf der Hausmesse von Best Whisky in Stuttgart erstanden (ich hatte berichtet). Das ist ein 1997iger aus Fass Nr. 63. Heute gab es den Whisky aus Fass Nr. 65, eine Abfüllung von 'Whiskykeller', den 'Lord of Islay' und aus Fass Nr. 60 eine Abfüllung von Whisky Tales. Während der Berry's sehr harmonisch und ausgewogen Rauch und Süsse vereint, wobei die Süsse den Rauch überwiegt, hat mein beim 'Lord of Islay' beide Komponenten einzeln und nacheinander. Erst die Süsse, dann den Rauch. Die Abfüllung von Whisky Tales liegt irgendwo dazwischen. Süsse und Rauch vereint, aber mit einem leichten Vorteil beim Rauch und etwas markanter 
Als der Berry's. Aber alle drei verd... leckere Tropfen. Samples hab ich mit. Die großen Flaschen konnte ich mir diesmal verkneifen (meine Geldbörse dankt es mir ;-) ) 
Alles in Allem wieder ein schöner, leckerer, interessanter und informativer Messetag. Für die Nachverkostung der Pröbchen werde ich wohl noch eine Weile brauchen. Es stehen ja auch noch die von der 0711 aus :-O.