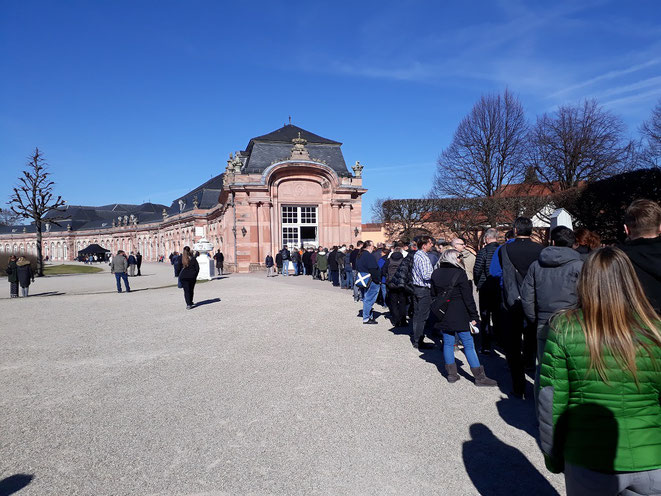 In diesem Jahr feierte die Whisky Spring in Schwetzingen ihr 5-jähriges Jubiläum. Aus diesem Anlass gab es Freitags bereits ein Pre-Opening mit einer begrenzten Anzahl an Tickets. Mit dem neuen Online-Ticket-System konnten die Tickets (zumindest theoretisch) noch am gewünschten Messetag online geordert werden. Allerdings waren die verfügbaren Tickets für Samstag bereits vorzeitig ausverkauft. Zum Glück ist meine Messetag in der Regel eh der Sonntag.
Der Preis im Vorverkauf betrug 13 EUR. Darin beinhaltet war ein Glas. Verglichen mit den 20 EUR für die 0711 Spirits in Stuttgart ein richtiges Schnäppchen. Zumal die Whisky Spring (wie der Name schon sagt) eine reine Whisky-Messe ist und damit für mich genau richtig. Es gab aber natürlich auch noch den einen oder anderen Gin, Rum und andere Spirituosen, allerdings für mich genau im richtigen Mischungsverhältnis.
Laut Veranstalter waren dieses Jahr 2800 Besucher zu Gast, die sich bei 36 Ausstellern (lt. Ausstellerliste auf der Homepage http://whisky-spring.de) aus mehr als 1200 Abfüllungen ihren Lieblingswhisky aussuchen konnten (ganz so viele hab ich nicht geschafft 😉 )
Auch ein paar neue Aussteller waren dieses Mal dabei. Darunter auch Mareike Spitzer mit Ihrem Team von irish-whiskeys.de. Das war dann, nach einer kleinen Überblicks-Runde, meine erste Anlaufstelle. Gefühlt habe ich die ganze Range an irischen Whiskeys durch probiert, die Mareike dabei hatte. Die waren aber auch alle lecker. Am besten gefallen hat mir der Spade and Bushel 12 Jahre Double Barrel.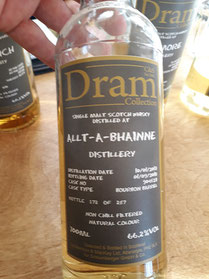 Bei Andrea Caminneci bzw. Schlumberger gab es einen jungen Allt-a-Bhainne. Dieser Destillerie sollte eigentlich mehr Aufmerksamkeit zuteilwerden. Bisher war eigentlich jeder Allt-a-Bheine, den iich probiert habe richtig lecker. Dieser hier machte da keine Ausnahme.
C&S Dram Collection Allt-a-Bhainne 66,2 % Vol. - 5 Jahre – Bourbon Barrel
Bei Genuss im Quadrat habe ich mich für einen Old Pulteney 15 Jahre entschieden. Bisher kannte ich den 17- und den 21-jährigen, die nun beide nicht mehr in der Range vertreten sind. Dieser Brennerei muss ich mich dringend auch mal widmen, denn auch der 15-jährige war lecker. Mir gefallen hier die fruchtig-maritimen Noten.
Old Pulteney 15 Jahre (->Whiskybase)

Obendrauf gab es noch eine Probe eine 17 Monate alten St. Kilian mit leichter Rauchnote (->Whiskybase). Eine Abfüllung für Genuss im Quadrat. Destilliert am 27.09.2017 und abgefüllt in 2019 mit 63,4 %, gereift in einem Ex-Bourbon Cask. Das war mein erster St. Kilian. Neulich noch hatte ich von der Brennerei die Pressemitteilung zum Lucky Seven bekommen. Allerdings hatte ich sie nicht veröffentlicht, da ich die Spirits bisher nicht kannte, nur vom Hörensagen. Diese Probe war aber wirklich vielversprechend. Da lohnt sich doch mal eine nähere Betrachtung. 
 
Bei my Tasting Heidelberg hab ich mir einen alten Bekannten einschenken lassen. Den Glenmorangie Signet (->Whiskybase) hatte ich 2011  das bisher erste und letzte Mal im Glas. Die Flasche war damals recht zügig leer. Auch 2019 ist das noch ein leckerer Tropfen.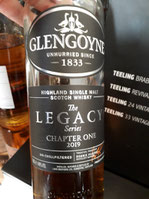 Bei Borco hatte ich mir den neuen Glengoyne zur Probe ausgesucht. Ganz netter Tropfen
Glengoyne The Legacy Series Chapter One (->Whiskybase)
Danach war es dann mal dringend Zeit für etwas frische Luft. Bei dem Wetter auch eine echt gute Idee. Die Aufmerksamkeit dort erregte ein schöner Rolls Royce mit einer ausgesprochen interessanten Sonderausstattung von Borco.
Bei der Gelegenheit habe ich dann meine Dalmore-Erfahrungen etwas erweitert. Diese bestanden bisher eigentlich nur aus verschiedenen Abfüllungen des King Alexander. Da kommen nun die folgenden zwei dazu.
Dalmore Cigar Malt Reserve (->Whiskybase)
Dalmore 15 Jahre  (->Whiskybase)
Bei Scotland and Malts stachen mir die Darkness!-Flaschen ins Auge. Ins Glas kam dann ein leicht rauchiger BenRiach ins Glas, der Darkness!  Peatside 6 Jahre mit einem Moscatel Sherry Cask Finish (->Whiskybase). 
Zum guten Schluss hat man mir bei Whisky Spirits eine SMWS-Abfüllung schmackhaft gemacht. Fass Nr. 29.258, wobei die 29 für Laphroaig steht. Die 'Remembrance of fruit past' lag 21 Jahre in einem 1st Fill Ex-Oloroso Hoghhead (->Whiskybase). Ein hervorragender Abschluss für einen wunderschönen Messetag.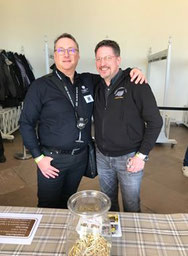 Die Schwetzinger Whisky Spring hat sich zu einem echten Muss für Whiskyfreunde jeder Couleur gemausert. Eine schöne Gelegenheit, sich mit Ausstellern und Freunden (z.B. Andreas Ames im Bild) zu treffen und auszutauschen. Für mich schon fast ein kleines Ambassador-Treffen, da auch immer einige meiner Kollegen aus dem Ambassador Club der Campari Group vor Ort sind, sowohl als Aussteller, wie auch als Gast. Schon großartig, was Joe Seidel und seine Helfer hier auf die Beine gestellt haben. Im nächsten Jahr bin ich auf jeden Fall wieder dabei.