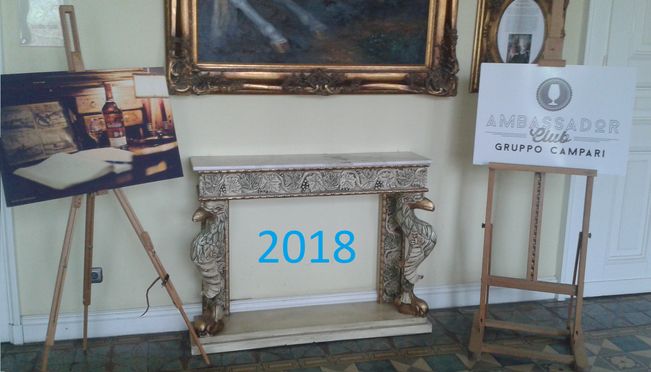 Das Jahr 2018 neigt sich dem Ende entgegen. Mal wieder Zeit, zurückzublicken und die Ereignisse Revue passieren zu lassen, an dieser Stelle natürlich bezogen auf den Whisky-bestimmten Teil meines Lebens. 
Das Thema vom letzten Jahresrückblick 'ich halte mich beim Kauf zurück' vergessen wir für das vergangene Jahr erst mal. Auf den Grund dafür kommen wir später wieder zurück. Auf jeden Fall konnten meine Flaschen im August ihr Kellerdasein beenden und in die neu gestaltete Whisky-Ecke umziehen.
Veranstaltungen
Das erste Event dieses Jahres war die 0711 Spirits in Stuttgart. Leider war ich, als Whisky-Interessierter weniger angetan. Der gefühlte Gin-Anteil dieses Jahr lag bei 80%. Schön für die Gin-Liebhaber, weniger schön für mich. Trotzdem werde ich der Messe vermutlich auch nächstes Jahr treu bleiben. Für den Rest des Jahres habe ich mich, wie auch letztes Jahr, auf die, für mich, gut erreichbaren Messen beschränkt. Februar in Schwetzingen, April in Herrenberg und November in
Villingen-Schwenningen. Dazu noch die Hausmesse bei Bestwhisky.
Allesamt schöne Veranstaltungen und auch für nächstes Jahr wieder im Programm. 
Ein absolutes Highlight war auch dieses Jahr wieder das nationale Treffen des Ambassador
Club, diesmal in Leipzig. Besonders das Glenfiddich-Tasting mit Markus und Struan blieb mir in Erinnerung. Tolle Moderatoren, tolle Whiskys und außerdem verschüttet man nicht oft derart hochwertige Tropfen vor versammelter Mannschaft. Die Lacher hatte ich jedenfalls auf meiner Seite. 
Im Juni durfte ich einige von Deutschlands bekannten Vloggern und Bloggern kennenlernen.
Gastgeber des Treffens war Marco Bonn vom Brühler Whiskyhaus. Für mich ein weiteres Highlight in diesem Jahr und ich bin sehr dankbar, dass ich die Gelegenheit bekommen habe, all die lieben Menschen treffen zu können. Leider liegt der Termin im nächsten Jahr für mich etwas ungünstig.
Nicht zu vergessen sind meine ersten vier selbst durchgeführten Privat-Tastings, die mir ausgesprochen viel Spaß gemacht haben. Mein Dank hier an die Gastgeber, bei denen ich die Whiskys vorstellen durfte (seht auch hier, hier und hier).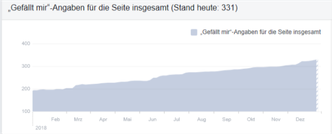 Web und soziale Medien
Meine Facebookseite gibt es seit Ende 2015. Bis Ende letzten Jahres hatte ich 188 Likes. Stand 26.12.18 sind es nun 331.

Meine Webseite besteht seit Ende 2016. Hatte ich letztes Jahr ca. 3.200 Nutzer mit etwa 5.500 Sitzungen und 8.600 Seitenaufrufen zu verzeichnen, so waren es dieses Jahr bereits 7.500 Nutzer mit 12.500 Sitzungen und 21.500 Seitenaufrufen. Dabei sind aktuell etwa ein Viertel der Leser Wiederholungstäter. Die Rückmeldungen, die ich bislang bekommen habe, waren durchweg positiv. An dieser Stelle einen Dank an meine Leser. Bleibt mir gewogen.
Insgesamt habe ich 87 Whiskys in den Quick-Notes vorgestellt und knapp 40 weitere Artikel online gestellt. Sieger bei den aufgerufenen Seiten war mein Online-Adventskalender, den es dieses Jahr zum ersten Mal gab, gefolgt von meiner Vorstellungsseite und, man lese und staune, die Quick-Notes zum 27-jährigen Ben Bracken .
Seit April diesen Jahres habe ich auch einen Instagram-Account. Nachdem mir von kompetenter Stelle versichert wurde, dass Facebook eine aussterbende Rasse ist und Instagram die Zukunft. Musste das natürlich sein. Man will ja mit der Zeit gehen.
Neuzugänge
Kommen wir nun zum Thema 'Zurückhaltung' bzw. eher das Fehlen derselben. Bei den Neuzugängen konnte/musste (wie auch immer man das sehen mag) ich einen Rekord verzeichnen. Ganze 101 neue Flaschen fanden den Weg zu mir. Alleine 40 Flaschen habe ich auf Auktionen erstanden. 44 über diverse Online-Shops, 11 bei 'local dealers' und 6 bei Herstellern bzw.  Vertriebspartnern direkt.
Die größte Gruppe der neuen Flaschen waren Blended Malts, was einerseits den älteren  Abfüllungen aus den Auktionen und andererseits meiner Vorliebe für Compass Box geschuldet ist. Die am häufigsten vertretenen Destillerien waren Laphroaig und Aberlour, gefolgt von Benriach, Glenfiddich und Talisker.
Meine persönlichen Highlights aus den Neuanschaffungen sind zum einen die neuen Compass Box-Abfülungen des Flaming Heart und der Story of the Spaniard und zum anderen der geschichtsträchtige Mackinlay's Rare Old Malt. Auch der Glenfiddich Winterstorm hat hier eine besondere Rolle. Die Erweiterung meine Sammlung von 18-jährigen Laphroaig freut mich immer wieder. Hier habe ich wohl einen leichten Spleen, aber für mich scheint ein volljähriger Laphroaig genau richtig zu sein.
Ausblick 2019
Für das neue Jahr gibt es natürlich auch schon wieder Pläne. Das erste Tasting für Januar ist bereits geplant. Die genannten Messen stehen im Programm. Für Mai ist ein Blogger-Treff gebucht. Ich will die Struktur meiner Seite ein wenig ändern. Die Destillerie-Serien will ich ausbauen und und und.
Es wird auf jeden Fall nicht langweilig.
In diesem Sinne wünsche ich allen Lesern ein gesundes, glückliches und erfolgreiches neues Jahr. Über Über zahlreiche Besuche und auch über viele Kommentare (selbstverständlich auch
konstruktive Kritik) auf meiner Seite würde ich mich natürlich sehr freuen.