(enthält nicht-bezahlte Werbung aufgrund Produktpräsentation )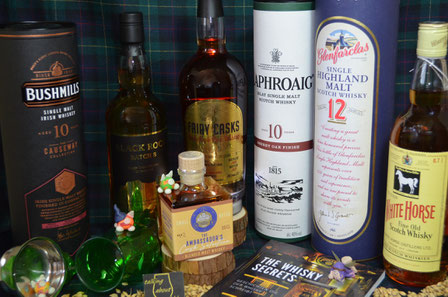 Lange Zeit sah es so aus, als ob der März ein absolut über-irischer Monat werden würde. Drei irische Whiskeys und ein Tasting-Set für ein St. Patrick's Day-Tasting. Dann kamen die Schotten aber doch noch zu ihrem Anteil. Zwei ältere Vertreter kamen aus der Auktion und eine neue Abfüllung von Islay. Dazu noch ein wahrer 'weltweiter' Blended Malt auch de Alchemisten-Küche. Ein kleines Buch war auch dabei, mit einer winzigen Geschichte von mir.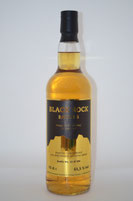 Black Rock 13 Jahre - Batch 8 - Single Grain - 61,5%vol - Bourbon Cask matured
Bei der neuesten Ausgabe der Black Rock-Serie handelt es sich um einen 13-jährigen Single Grain. Die Abfüllung ist Thomas Hermann gewidmet, einem plötzlich verstorbenen Wegbegleiter von Irish-Whiskeys.de
(Notes)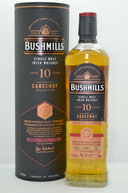 Bushmills 2010 The Causeway Collection - 10 Jahre - 46 %vol - Oloroso Butts, Bourbon Barrels, Cognac Finish
Ein Bushmills sollte schon lange mal ins Regal und dieser hat mich einfach angesprochen. Das Cognac-Finish klingt interessant.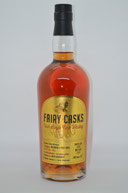 Fairy Casks 2 - 12 Jahre - 54,5 %vol - 1st fill bourbon + Ruby Port cask Finish
Eine weitere Eigenabfüllung von Irish-Whiskeys.de. Ein Blended Whiskey mit Port-Finish, freigegeben für den Verkauf während des St. Patrick's Day Live Tasting.
(Notes)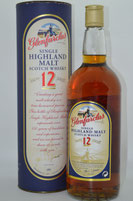 Glenfarclas 12 Jahre - 43 %vol
Ich hatte schon einmal das Vergnügen, einen alten 10er Glenfarclas zu probieren. Nun habe ich mir in der Auktion eine ältere Version eines 12er ersteigert und bin gespannt.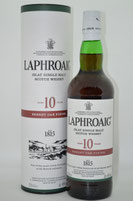 Laphroaig 10 Jahre - 48 %vol - Sherry Oak Finish
Eine neue Abfüllung von Laphroaig mit Finish im Sherry-Fass. Der war sehr beliebt. Natürlich auch für mich ein Muss.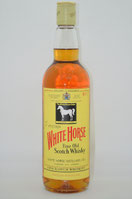 White Horse Fine Old Scotch Whisky - 43 %vol
Eine weitere Flasche aus der Auktion für mein Antiquariat älterer Blends. Nach den Erfahrungen aus dem OBF-Tasting freue ich mich auf jeden einzelnen.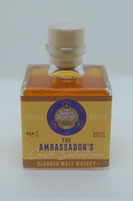 The Ambassador's Cask Selection Small Batch - 44,7 %vol - Bourbon + Negroni Finish
Eine ausgesprochen interessant klingende Abfüllung aus der Feder des Spirits Alchemist Sebastian Büssing.