(enthält nicht-bezahlte Werbung aufgrund Produktpräsentation )
Die achte Ausgabe von 'The War of the Peat' kommt aus den Highlands von Ardmore. Eine 10-jährige Abfüllung mit Finish in einem Refill-Sherry Butt. Daher sind hiervon auch eine gute Anzahl von Flaschen verfügbar. Mit Ardmore hatte ich bislang auch noch nicht viele Berührungspunkte. Bislang waren die Begegnungen aber durchaus positiv. 
Das Sample habe ich wieder von whic.de zur Verfügung gestellt bekommen.
62,7 % Vol. - Single Malt - Sherry Butt Finish - 10 Jahre - Fass Nummer 1, 706 Flaschen - nicht gefärbt, nicht kühlgefiltert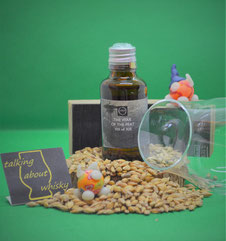 Auge: Helles Gold und eine leicht wirkende Konsistenz mit schnellflüchtiger Tropfenbildung
Nase: Helle Süße von Traubenzucker und helle, frische Früchte, leicht säuerliche Beeren. Dann folgen die Rauchnoten. Auch etwas Salzkaramell ist dabei. Die Süße ist recht dominant.
Mund: Hier zeigen sich zuerst die rauchigen Aromen, ein wenig, wie brennender Stall; interessant. Darauf folgt direkt die Süße und eine pfeffrige Schärfe. Auch hier ist für mich die Süße das vorherrschende Aroma. Blütenhonig, reife Äpfel und Vanille. Es wird trockener und Eichenwürze kommt dazu.
Nachklang: Die süßliche-scharfen Aromen bleiben lange erhalten und machen am Schluss einer letzten Rauchwelle Platz.
Fazit: Sehr interessanter Whisky. Dominante Süße mit kräftiger Schärfe und ganz eigenen Raucharomen. Wer Harmonie sucht, wird bei dieser Abfüllung nicht fündig. Wer dagegen etwas Wildes mit Ecken und Kanten sucht, dem wird diese Abfüllung gefallen. Die Raucharomen treffen nicht meinen Geschmack, sind aber sehr interessant.