(enthält nicht-bezahlte Werbung aufgrund Produktpräsentation ) 

Für mich zwischenzeitlich ein Muss und ein Highlight bei den Whisky-Messen ist die Whisky-Spring in Schwetzingen. Letzten Sonntag war es wieder soweit. Um 12 Uhr stand ich in der Schlange am Einlass und lauschte den Tönen des Dudelsacks. 
Das Erste, was ich normalerweise mache, ist ein Rundgang über die gesamte Messe, um mir einen Überblick zu verschaffen. Dieses Mal wurde ich durch magische Kräfte am Stand vom Whisky Hort gebremst, verzaubert durch Hexenkraft. Die Allgäuer Whiskyhexe Cordula Maik zauberte mir die einfache Lichtgeschwindigkeit ins Glas. Der 'Single Velocity of Light' von Scotch Universe ist ein 7-jähriger, 1st-Fill Bourbon-Fass-gereifter Miltonduff. Ein angenehmer Einstieg in den Messetag. Nebenbei wieder eine Facebook-Bekanntschaft auf den persönlichen Level gehoben. Es war mir ein Vergnügen.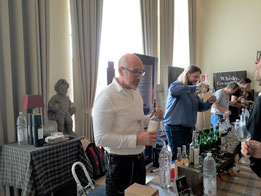 Den nächsten, etwas ausgiebigeren Halt hatte ich bei Peter Bockhoff und den Abfüllungen von Berry Bros. & Rudd und den 'Lord of'-Abfüllungen des Whiskykeller. Immer wieder leckere Whiskys. Mein besonderes Augenmerk fiel dabei auf die Lords. 
Die 'weißen' Lords waren mir bisher unbekannt. Es sind alkoholmäßig reduzierte Versionen der 'schwarzen' Lords. Wie schon auf der 0711 Spirits, hatte ich mir auch für die Whisky Spring vorgenommen, eine Flasche mit nach Hause zu nehmen. Der Caol Ila aus der schwarzen Lord-Serie war ein Kandidat dafür.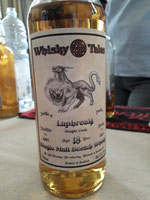 Während ich noch mit den Lords beschäftigt war, fiel mein Blick auf die Whisky-Liste des Nachbarstandes. Es war der Stand von Whisky Tales. Auf der Liste stand ein Laphroaig. Ein 18-jähriger Laphroaig. Wer meine Seite regelmäßig verfolgt, kann sich vielleicht daran erinnern, dass ich ein gewisses Faible für genau diese Sorte Whisky habe. Obwohl der Preis für die Abfüllung schon ein wenig dämpfend wirkte (zwischenzeitlich sind die Preise für 18er Laphis leider generell auf einem hohen Niveau), musste er natürlich probiert werden - und war gedanklich schon fast gekauft. Er war auch lecker, aber meine Erwartungen waren wohl zu hoch angesetzt. Wirklich überzeugen konnte er mich nicht. Mir fehlte etwas die Komplexität, die ich mir für eine 18-jährige Abfüllung erhofft hatte.
Bei Tom Skowronek hab ich mir drei Anam na h-Alba einschenken lassen. Das Ergebnis: Ein Glengoyne und ein Croftengea landeten auf der Liste der potentiellen Kaufkandidaten.Einen Port Charlotte hätte er mir auch noch angeboten, wenn er nicht schon ausverkauft gewesen wäre. Aber bei den Nachbarn von The Whisky Warehouse No. 8 sei er noch verfügbar. Das Fass hatte er sich mit den Kollegen geteilt. Also bin ich zu 'Konkurrenz' abgewandert (bei denen ich bislang, warum auch immer, noch nie etwas probiert hatte). Der Port Charlotte war ein Traum, aber leider auch hier nur noch zum Verkosten, nicht aber zum Mitnehmen verfügbar. 
Die Abfüllungen von Michel Couvreur sind zwar allgemein sehr beliebt, waren mir aber bisher eher zu heftig (mein Problem mit extremen Sherry-Abfüllungen ist vermutlich zwischenzeitlich auch hinreichend dokumentiert). Da bei mir jeder mehrere Chancen bekommt durfte mir Frank Jerger von Whisky for life zwei Proben einschenken. Die Erste war der Blossoming auld sherried und da war sie wieder, die heftige Sherryfracht. Unbestritten ein toller Whisky, für mich allerdings schon wieder zu heftig sherrylastig. Danach kam die neue Sonderabfüllung für Whisky for Life und das Brühler Whiskyhaus, der  Ἀχάτης (Achates). Natürlich ebenfalls eine Sherryreifung, diesmal in Fassstärke abgefüllt. Die Sherrylast ist hier in keiner Weise geringer, wenn auch die Aromen eine etwas andere Richtung einschlagen. Was mich (zumindest an diesem Tag) bei diesem Whisky so geflasht hat, war der Umstand, dass der Whisky im Mund nie fertig zu sein schien. Stellt Euch Aromaperlen vor, die im Mund zeitversetzt nach und nach platzen und ihre, immer leicht variierenden, Aromen freigeben. Einfach Hammer. Der nächste Kandidat für die Kaufliste.
Die letzte Station meiner Whisky-Reise an diesem Sonntag war Celtic Events. Neben der Verkostung der leckeren Abfüllungen von Cooper's Choice, einem Croftengea und einem North British, hatte ich angenehme Gespräche mit Andrew McNeill und Tabea Dalfuß. 
Danach war es leider auch schon Zeit,  mich auf den Weg zu machen, um meinen Zug nicht zu verpassen (aus Kostengründen hatte ich mit Zugbindung gebucht). Zwischenzeitlich hatte ich mich auch schon entschieden, welche Flasche den Heimweg mit mir antreten durfte. Ich hatte mich prompt für die Flasche entschieden, die vor Ort nicht mehr verfügbar war. Glücklicherweise hatte Frank Jerger noch welche in seinem Laden, so dürfte der Achates in den nächsten Tagen auf dem Postweg bei mir eintreffen.
Mal wieder war der Tag zu kurz. Ich hätte liebend gerne noch weiter probiert und gefachsimpelt. Mein Dank und meine Gratulation für die gelungene Veranstaltung gilt auch dieses Jahr Joe Seidel und seinem Team und allen Ausstellern, die diese Messe wieder zu einem schönen Erlebnis gemacht haben. Ich freue mich schon auf das nächste Jahr.