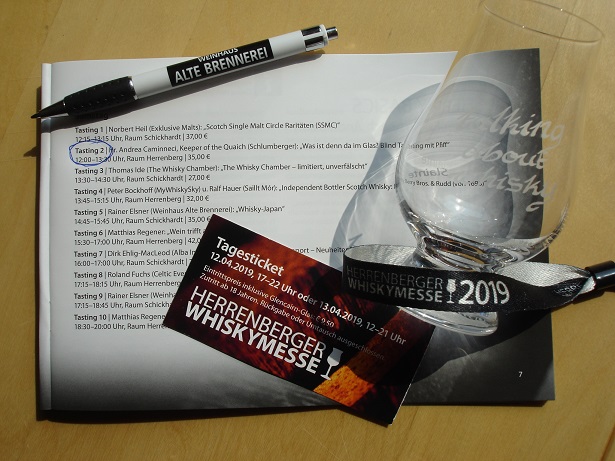 Am 12. und 13. April war das Hotel Gasthof Hasen im Herrenberg wieder der Schauplatz der Herrenberger Whiskymesse. 16 Spirituosen-Aussteller präsentierten ihre Produkte. Der Schwerpunkt dieser Messe liegt eindeutig bei den unabhängigen Abfüllern. Aber auch Originalabfüllungen wurden vorgestellt.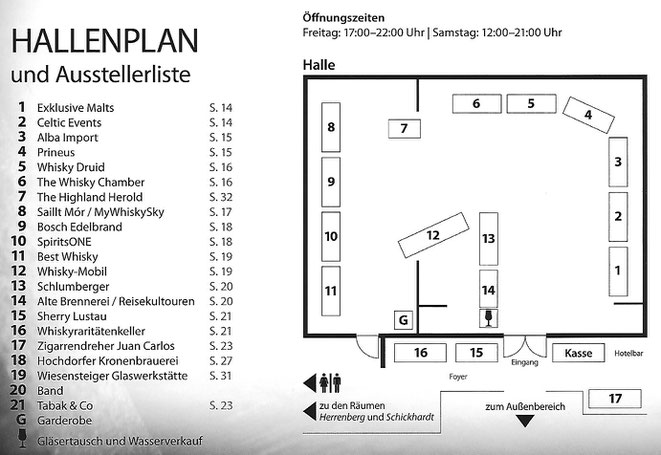 Auch Tastings wurden angeboten. Highlight hier für mich sind seit letztem Jahr die Tastings mit Andrea Caminneci. Das schöne daran: es werden nicht die Produkte vorgestellt, die eh am Stand zu probieren sind. Nachdem letztes Jahr unter 'Schottlands Whisky vor Glenfiddich' verschiedene Blends aus den 60er bis 80er-Jahren verkostet wurden, war diese Jahr ein Blind -Tasting angesagt. Das Motto lautete 'Was ist denn da im Glas? Blind Tasting mit Pfiff'. Der Gewinner des Tastings war, um es vorweg zu nehmen, eine echte Überraschung (es war allerdings nicht auch mein Gewinner).

Folgende Whiskys waren eingeschenkt:
1. Johnnie Walker - White WalkerDie Johnnie Walker Game of Thrones-Abfüllung. Der Verlierer bei den Teilnehmern

2. Johnnie Walker - Red Label - allerdings eine Abfüllung von Ende der 60er bzw. Anfang der 70er Jahre. Zu Anfang ein wirklich leckerer Tropfen. Nach einer Weile kamen allerdings ein paar unangenehm muffige Töne durch
3. Glenlivet 12 Jahre - nicht die aktuelle Abfüllung, die seit letztem Jahr wieder verfügbar ist. Die Flasche stammte noch aus der Zeit vor der Rücknahme vom deutschen Markt. Mein persönlicher Gewinner des Tastings
4. Teachers Blend - ebenfalls eine Abfüllung aus den 60ern oder 70ern. Diese Flasche fiel bei den Teilnehmen genauso durch, wie der White Walker
 
5. Glen Garioch 12 Jahre - Eine wirklich leckere und außergewöhnliche Standardabfüllung
6. Finch 10 Jahre - One Decade -eine limitierte Abfüllung aus dem schwäbische Hochland. Dieser Whisky konnte die meisten  Teilnehmer des Tastings voll überzeugen. Zur Überraschung aller, dass ein deutscher Whisky so gut schmecken kann.


In der Ausstellung gab es natürlich wieder viele Whiskys zu Verkosten (s. Bilder). Mein absolutes Highlight der verkosteten Whiskys war definitiv ein Blended Malt. Die neueste Abfüllung von Compass Box, der 'Tobias and the Angel'. Leider ist die Flasche für über 500€ jenseits jeglichen Budgets, aber der Whisky ist wirklich herrlich lecker.
Der Samstag auf der Herrenberger Whiskymesse war wirklich wieder lohnenswert. Ich kann diese kleine, familiäre Messe nur wärmstens empfehlen.