(enthält nicht-bezahlte Werbung aufgrund Produktpräsentation )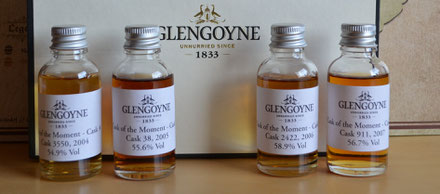 Am 28. August diesen Jahres durfte ich an einem besonderen Event teilnehmen. 'Casks unlocked' hieß die virtuelle Live-Verkostung, bei der über die Auswahl des nächsten 'Cask of the moment' entschieden werden sollte. Das Glengoyne "Cask of the Moment" ist eine Serie von Single Casks, die normalerweise vom Distillery Team ausgewählt werden. Die Whiskys sind in der Regel nur vor Ort verfügbar und können im Distillery Shop von Hand abgefüllt werden. Dieses Mal wurde ein Online-Event daraus gemacht. Insgesamt konnten 230 Sample Sets mit je 4 x 3cl für den Preis von £50,00 erworben werden. Trotz des hohen Preises für die Samples wollte ich unbedingt mitmachen und habe mir ein Set bestellt. Leider gab es bei der Lieferung Probleme und das Set traf mit Verspätung bei mir ein. An dieser Stelle meinen herzlichsten Dank an Laurie McNab von Glengoyne für die tatkräftige Unterstützung. Trotz des fehlenden Sample Sets habe ich an dem Event teilgenommen. Ich habe mir einfach einen Glengoyne Burnfoot eingeschenkt und den Eindrücken der Online-Teilnehmer gelauscht.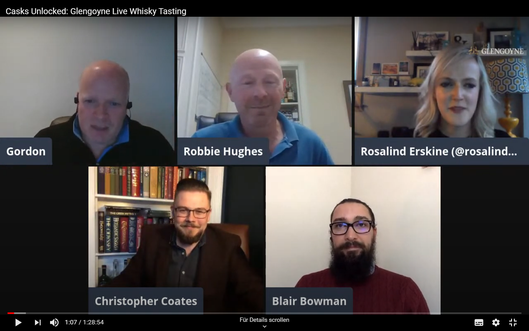 Neben  Robbie Hughes (Master Distiller of Glengoyne) und Gordon Dundas (International Brand Ambassador), der die Session moderierte, waren noch Rosalind Erskine (Autor bei Scotsman Food and Drink), Blair Bowman (Whisky Consultant & Autor des Buches 'The Pocket Guide to Whisky: Featuring the WhiskyTubeMap' und Christopher Coates (Seit September 2020 Herausgeber des Whisky Magazine ) mit von der Partie.
Bei den vier Abfüllungen, die zur Auswahl standen, handelte es sich um vier außergewöhnliche Fässer, darunter ein Ex-Borbon-Fass aus dem Jahr 2004, eine Port Pipe aus dem Jahr 2005, ein Refill Hogshead aus dem Jahr 2006 und ein Madeira-Fass aus dem Jahr 2007.
Für die Auswahl der Fässer hatte Robbie Hughes drei Grundvoraussetzungen zugrunde gelegt. Erstens sollten es für Glengoyne untypische Abfüllungen sein, die Zweitens erschwinglich sein sollten (was bei dem letztendlich aufgerufenen Preis für den Gewinner recht relativ war) und die Drittens ihm persönlich schmecken mussten. Um es vorweg zu schicken; es waren wirklich außergewöhnliche Abfüllungen. 
Cask A  - Ex-Bourbon - 15 Jahre
54,9 % Vol. - Single Malt - 1st fill Ex-Bourbon - Fassnr. 3550 - 01.12.2004 / 08.2020 - nicht gefärbt, nicht kühlgefiltert
Farbe:  Gold
Aroma: Vanille und Honig mit kräftigen Gewürzen und trockenen Holztönen. Dazu Äpfel und Birnen. Eine leicht pfeffrige Schärfe und dezente Hefenoten. Nach einer ganzen Weile tauchen Cappuccino-Aromen auf.
Geschmack: Kräftiger Antritt mit Vanille, Malz und einer angenehmen Schärfe. Schokoladennoten und Honig. Mit etwas Wasser finden sich Zimt und andere Gewürze. Wieder trockene Holztöne. Das Mundgefühl ist angenehm cremig und warm.
Abgang: Ein langer, warmer, würzig-süßer Nachklang erfreut den Gaumen.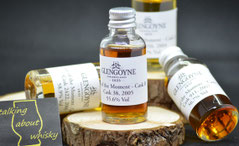 Cask B - Port Pipe - 15 Jahre
55,6 Vol. - Single Malt - Tawny Port Pipe - Fassnr. 38, 789 Flaschen - 19.01.2005 / 08.2020 - nicht gefärbt, nicht kühlgefiltert
Farbe: Mahagoni
Aroma: Dunkle, reife Trauben und Noten von Liebstöckel, fast ein wenig wie Brühpulver; süß und würzig. Ein Hauch von poliertem Leder. Auch Malzzucker ist zu finden. Tiefe, dunkle, volle Aromen. Die dezente pfeffrige Schärfe darf bei Glengoyne nicht fehlen.
Geschmack: Süßer Kandiszucker, eine angenehme Schärfe. Dunkle, reife Früchte und würziges Holz. Zimt und Muskat, dunkles Karamell und ebenso dunkle Schokolade. Mit ein wenig Wasser werden die würzigen Aromen kräftiger und Trockenobst taucht auf.
Abgang: Ein nicht enden wollendes würzig-süßes Vergnügen.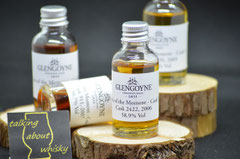 Cask C - Refill Sherry Hogshead - 13 Jahre
58,9 % Vol. - Single Malt - Refill Sherry Hogshead - Fassnr. 2422 - 2006 / 08.2020 - nicht gefärbt, nicht kühlgefiltert
Farbe: Bernstein
Aroma: Sehr reife Früchte. Bananen, Äpfel, Orangen. Dann folgen Rosinen und Schokolade. Auch Nuss-Töne sind erkennbar.
Geschmack: Weicher Antritt mit Schokolade und Nüssen. Dazu Rosinen und etwas Orange. Alles unterlegt von der, für mich typischen, recht angenehmen Pfefferschärfe. Dunkle Schokolade und Kaffee-Aromen.
Abgang: Lang und weich bleiben die Aromen im Mund. Hauptsächlich die Schokolade hält sich in Erinnerung.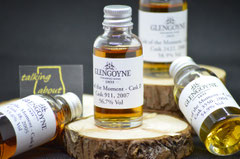 Cask D - Ex-Madeira - 13 Jahre
56,7 Vol. - Single Malt - Ex-Madeira (seasoned 18 months) - Fassnr. 911 - 25.04.2007 / 08.2020 - nicht gefärbt, nicht kühlgefiltert
Farbe: Terracotta, dunkler Bernstein
Aroma: Im Antritt Pfirsich und Aprikose. Zusätzlich würzige Noten. Zimt und Muskat. Wieder Schokolade und zarter, weißer Pfeffer.
Geschmack: Weicher und zugleich pfeffriger Antritt. Dann fruchtige Süße, Malz und Vanille. Cremig-weiches Mundgefühl. Eine süße Würze legt sich in den Mund. Nach und nach zeigen sich auch Lederaromen.
Abgang: Lang, weich, süß.
Ich bin froh, dass ich mir dieses Sample-Set trotz des beachtlichen Preises zugelegt habe. Das waren vier außergewöhnlich leckere Whiskys. Rein nach der Beschreibung war der Ex-Madeira mein Favorit. In der Verkostung konnte aber der Ex-Port gleichziehen. Eine 15-jährige Tawny-Port-Vollreifung bekommt man nicht alle Tage ins Glas. Der Ex-Sherry lag für mich noch vor dem Ex-Bourbon.
Insgesamt hat die Port-Abfüllung vor dem Madeira das Rennen gemacht. Nach dem Event konnten Vorbestellungen gemacht werden. Ganze £190,00 wurden aufgerufen. Ich habe mir tatsächlich die Flasche gekauft, obwohl ich bis zu diesem Zeitpunkt nicht probieren konnte. Im Nachhinein betrachtet hätte ich mir eher zwei Flaschen zulegen sollen. Zwischenzeitlich sind alle 789 Flaschen ausverkauft