Und wieder ist ein Jahr vergangen und wieder wird es Zeit für einen Jahresrückblick. Nachdem letztes Jahr meine Geldbörse hier öffentlich ihr Leid geklagt hatte, habe ich versucht es dieses Jahr etwas ruhiger angehen zu lassen.
Zusätzlich habe ich mir eine persönliche 'Strafe' auferlegt: Für jeden Whisky, den ich mir kaufe, bekommt meine Frau die Hälfte des Kaufpreises als 'Entschädigung'.
Und es hat funktioniert. Statt 80 Flaschen, waren es dieses Jahr nur 54 Flaschen, die zusätzlich mein Regal bevölkern.
Allerdings habe ich dieses Jahr sogar schon am 01. Januar angefangen einzukaufen, mit einem Black Forest aus heimischen Lemberger-Fässern (der, nebenbei gesagt, recht lecker war).
In 2017 habe ich mein Faible für Whisky-Auktionen entdeckt. Gut ein Drittel der neuen Flaschen stammen aus diesen Auktionen. Dabei sind einige ältere Abfüllungen (wie z.B. ein Glendronach 15 aus 2003), einige Ergänzungen zu meiner Sammlung von Balvenie-Abfüllungen, 18-er Laphroaigs und Aberlour Cuvée Marie d'Ecosse) und einige schöne, dekorative Flaschen.
Natürlich waren dieses Jahr wieder Neuerscheinungen und limitierte Sonderabfüllungen dabei, wie beispielsweise   der Ardbeg Kelpie (Committee und 'Normal'-Abfüllung), der Ardbeg An Oa und die beiden Laphroaig Cairdeas. Auch das eine oder andere Schnäppchen war dabei (z.B. 15-er Laphroaigs und ein 25er Mortlach von Chieftain's). Es waren auch Flaschen dabei, die ich einfach nur interessant fand (Collectivum XXVIII, Compass Box No Name).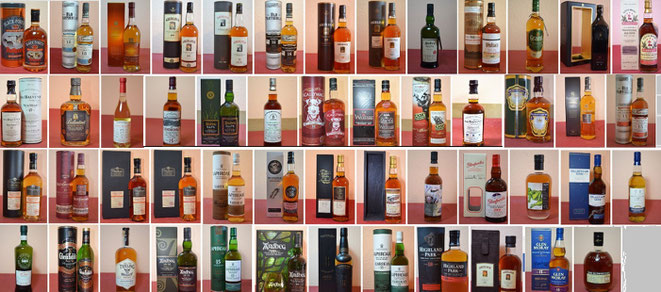 Messetechnisch habe ich mich in der Hauptsache auf die Messen in meiner Nähe beschränkt. Da waren die 0711 Spirits in Stuttgart, Whisky Spring in Schwetzingen, die Herrenberger Whiskymesse, die Continental Whisky Market Stuttgart und die Hall of Angel's Share in Villingen- Schwenningen. 
Ein weiterer Höhepunkt war zweifelsohne unser nationales Ambassador-Treffen im Juli. Dort durfte ich Markus Heinze (Brand-Ambassador Glenfiddich) und Dennis Malcolm (Master Blender Glen Grant) persönlich kennenlernen, ganz zu schweigen von den leckeren Whiskys, die die beiden mitgebracht hatten.

Für 2018 habe ich auch schon Pläne. So steht Anfang des Jahres mein erstes taw-Private-Tasting an. Ende Januar ist schon wieder die 0711 Spirits. Dann kommt die Whisky Spring. Im nächsten Jahr ist statt Villingen-Schwenningen vermutlich The Village in Nürnberg an der Reihe und dann wieder Herrenberg.
Außerdem gibt es Pläne, das Dachgeschoß zu einem Whiskyzimmer umzugestalten in dem ich dann meine 'Taste'n Talk'-Abende durchführen will.
Man darf gespannt sein.