Im Juni habe ich mal wieder ordentlich zugeschlagen. Bei der Auktion gab es mehr Zuschläge, als ich erwartet hatte. Ganze sieben Flaschen fanden den Weg zu mir. Schöne (und leckere) Ergänzungen für meine Sammlung und ein paar vergleichsweise günstige Nachkäufe von Whiskys die mir recht gut gefallen haben. Die Grooves 'Normalabfüllung' gab es nur im Bundle mit dem Corryvreckan. Für mich als Ardbeg-Liebhaber ein geringes Opfer und über Rabatt auch noch preislich interessant. Eine Jubiläums-Sonderabfüllung eines bekannten Online-Shops in einer Keramikflasche. Der neue Laphroaig Cairdeas ist für mich natürlich auch fast Pflicht (nachdem ich mir den 10er CS diesmal wieder verkniffen habe). Last, but auf keinen Fall least noch eine Flasche des Batch 1 vom Glenfiddich WinterStorm. 
Hier nochmal alle Neuankömmlinge in alphabetischer Reihenfolge: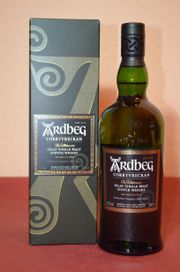 Ardbeg Corryvreckan - 57,1 % Vol.
Eine der (neuerdings) vier Standard-Abfüllungen der Brennerei. Ein 'Zwangs-'Beifang zum Grooves, aber ein leckerer. (By the way...dazu hab ich noch gar keine Notes gemacht, bisher)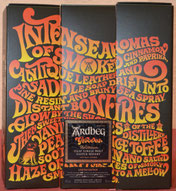 Ardbeg Grooves - 46 % Vol. 
Nachdem er als Committee-Release an mir vorbei gegangen ist, musste er als Normalabfüllung her, der groovy Ardbeg (dazu gibt es schon Notes, zumindest zum CR)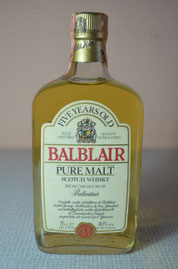 Balblair 5 Jahre - 40 % Vol. 
… und noch eine Flasche für mein Antiquariat. Vermutlich auch aus den 1980ern.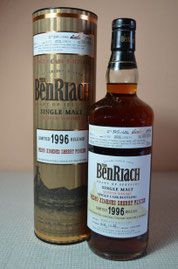 BenRiach 1996 - 18 Jahre  54,6 % Vol. - PX-Cask 3610  Flasche 325/626
Familienzusammenführung. Diese Flasche gesellt sich zu ihrer Schwester Nr. 111. Diese PX-Abfüllungen sind einfach Klasse.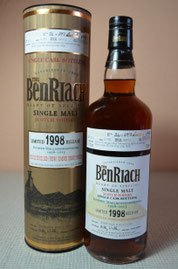 BenRiach 1998  15 Jahre - 57,4 % Vol. - PX-Cask 6393 Flasche 24/697
Neben dem 1995er, den 1996ern und dem 1999er die vierte Jahresausgabe der Reihe (der 1999er ist allerdings schon leer)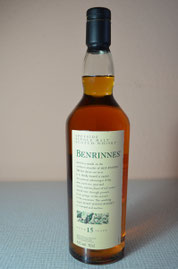 Benrinnes 15 Jahre Flora & Fauna - 43 % Vol.
 Nach dem Blair Athol meine zweite Flora & Fauna-Abfüllung. Hoffentlich ähnlich lecker.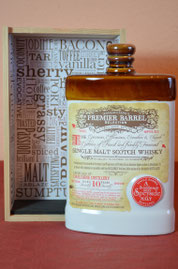 Dailuaine 10 Jahre Premier Barrel - 46 % Vol.
Dies ist eine Abfüllung zum 25-jährigen Jubiläum von whisky.de. Eine solche schmucke Premier-Barrel-Keramikflasche von Douglas Laing hatte ich vor Jahren schon einmal. Damals war es ein Braeval.
Edradour 12 Jahre Caledonia - 46 % Vol.
Davon steht zwar noch eine Flasche im Regal, aber vor einigen Jahren hatte er mir so gut geschmeckt, dass ich dachte, eine weitere Flasche kann für einen guten Preis nicht schaden.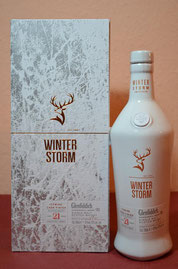 Glenfiddich 21 Jahre WinterStorm - 43 % Vol.
Hier hatte sich überraschend noch die Gelegenheit aufgetan, eine Flasche zum ursprünglichen Preis zu bekommen. Die hab ich natürlich ergriffen. (-> Notes)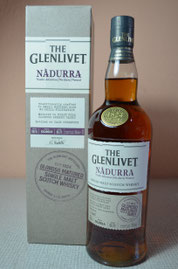 Glenlivet Nàdurra Oloroso - 60,7 % Vol. - OL0614
Auch diese Flasche ist ein Nachkauf. Ein richtig leckerer Tropfen aus 1st Fill Oloroso Sherry Casks.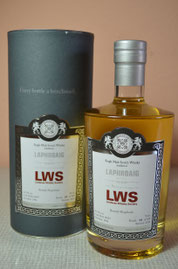 Laphroaig 1996 18 Jahre - 56,2 % Vol. 
Diese Abfüllung von Malts of Scotland ist eine Sonderabfüllung für die Lindores Whisky Society mit einem Finish im Brandy Hogshead. Eine Erweiterung für meine Sammlung von 18er Laphroaigs.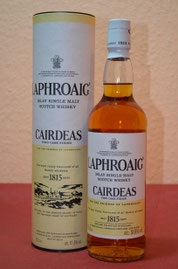 Laphroaig Cairdeas 2018 - 51,8 % Vol. 
Last but not least die diesjährige 'Freundschafts'-Abfüllung mit Fino-Finish.