(enthält nicht-bezahlte Werbung aufgrund Produktpräsentation )
'The War of the Peat' kehrt zu Caol Ila zurück. Nach dem 9-jährigen in der zweiten Ausgabe der Reihe ist nun eine 6-jährige Abfüllung aus der Islay-Brennerei am Start. Dieses Mal erfolgte die Reifung in einem ehemaligen, stark ausgekohlten Weinfass gereift. Der Whisky wurde von Signatory Vintage für whic.de abgefüllt. Destilliert 2013 und abgefüllt 2020 ohne Farbe und ohne Kühlfiltrierung.
61,8 % Vol. - Single Malt - charred wine - Fassnummer: HHD #325551, 275 Flaschen - nicht gefärbt, nicht kühlgefiltert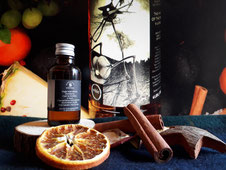 Farbe: Bernstein
Aroma: Salzige Meeresbrise mit den zugehörigen Algen und Seegras. Dazu eine kräftige Chili-Schärfe und langsam zeigt sich auch Lagerfeuerrauch. Aus dem Hintergrund drängen sich süße Karamell-Aromen am Rauch vorbei. Ebenso Rosinen und Kirschen, mit ein wenig Hefeteig. 
Geschmack: Ordentlich scharfer Antritt, leicht brennend auf den Lippen. Dunkles Karamell und Holzrauch zeigen sich hinter der Schärfe. Ein Schuss Wasser verdrängt die Schärfe und lässt die Süße nach vorne. Der Rauch ist nicht mehr ganz so prägnant. Kirsche, Apfel und Zitrusfrüchte sind dabei.
Abgang: Der Nachklang ist eher mittellang mit dezenter Süße und weniger dezenter Schärfe.
Fazit: Ein wilder Junger, mit ordentlich Kraft. Er verträgt eine gute Portion Wasser zur Bändigung. Vorherrschend ist die Süße. Rauch und Salzkaramell sind eher Mitläufer. Ein ganz ordentlicher Raucher, für mich aber noch eine Spur zu jung.