(enthält nicht-bezahlte Werbung aufgrund Namensnennungen)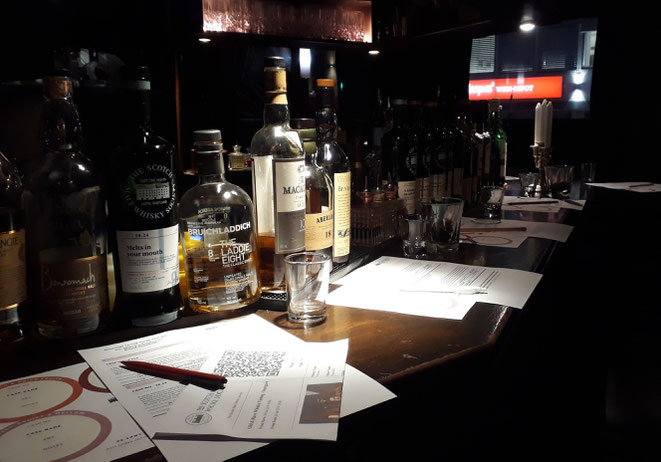 Ende Januar hatte ich das Glück auf ein SMWS-Tasting eingeladen zu sein (Dank an Matthias Rech von SMWS Germany für die Einladung). Bei dem Motto des Tastings 'Old & Rare' konnte ich nicht nein sagen. Ich bin kein SMWS-Clubmitglied, habe aber schon die eine oder andere Abfüllung verkosten dürfen. Daher war ich sicher, dass mich ein leckerer Abend erwartet.
Veranstaltungsort war die Schwarz Weiß Bar in Stuttgart. Gastgeber war Knud Scheibelt. Seit 2011 betreibt er erfolgreich die mehrfach ausgezeichnete Bar. Seit Oktober 2018 ist er SMWS Brand Ambassador für den Raum Stuttgart und die Bar Teil des SMWS Partnerbar-Netzwerkes.
Für diesen Abend waren 5 Whiskys zur Verkostung angekündigt, von denen der jüngste 25 Jahre sein sollte. Hier nun die Hauptdarsteller in der Reihenfolge in der Reihenfolge ihres Auftretens mit meinen kurzen Notizen: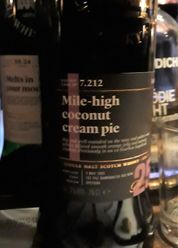 7.212 - Mile high coconut cream pie
Kategorie 'Sweet, fruity and mellow' -  Speyside - Longmorn
25 Jahre - destilliert 04. Mai 1998 
51,8 % Vol. - 1st Fill Ex-charred red wine barrique  - 246 Flaschen
 
Helle Früchte, cereal, leichte Kokosaromen. Cremig süß, leicht pfeffrig, malzige Süße. Dann würzige Eichenaromen. Die Würze bleibt am längsten und begleitet einen durch den ganzen langen Abgang.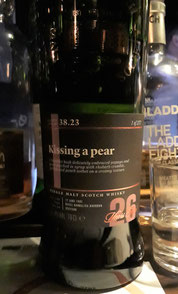 38.23 - Kissing a pear
Kategorie 'Sweet, fruity and mellow' -  Speyside - Caperdonich
26 Jahre - destilliert 17. Juni 1992 
51,4 % Vol. - Refill Ex-Bourbon Barrel - 277 Flaschen
 
 Wieder helle Früchte, eher tropisch. Dazu kräftige alte Birne, Vollmilchschokolade. Cremig, fast ölig im Mund. Malzige Süße mit Vanille. Dann eine schöne Würze. Trockene Aromen, wird etwas cerealer. Mittellanger, süß-würziger Abgang.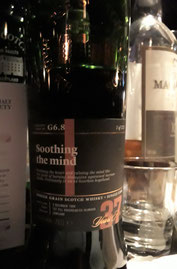 G6.8 - Soothing the mind
Kategorie 'Deep, rich and dried fruit' - Lowland - Port Dundas
37 Jahre - destilliert 03. Dezember 1980 - Single Grain
48,4 % Vol. - 1st Fill Ex-Oloroso Hogshead – 173 Flaschen
 
Kräftige Sherryaromen. Dunkle Früchte, Nüsse, neues Leder, Tabak
und dunkle Schokolade. Eine ordentliche Sherryebombe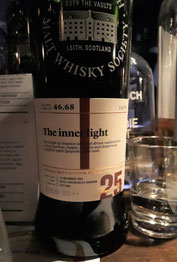 46.68 - The inner light
Kategorie 'Old and dignified' - Speyside - Glenlossie
25 Jahre - destilliert 16. November 1992
53,9 % Vol. - Refill Ex.Bourbon Hogshead – 288 Flaschen
 
Cereal, floral mit Vanille, Rohrzucker, Blütenhonig und eine leicht minzige Frische.
Man könnte meinen, man leckt an eine Zuckerstange. Kurzer und süßer Abgang.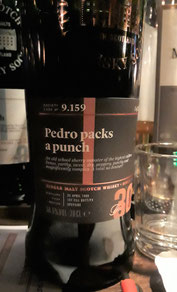 9.159 - Pedro packs a punch
Kategorie 'Deep, rich and dried fruit' - Speyside - Glen Grant
30 Jahre - destilliert 25. April 1988
50,5 % Vol. - 1st-Fill Ex-PX-Butt - 227 Flaschen
 
Kräftiger Sherry, Rosinen, Kirschen, Rohrzucker. Holz und Tabak, ein Humidor.
Dazu eine dezente Chili-Schärfe


Es war ein wunderschöner Abend mit leckeren Tropfen in einer gemütlichen Runde in angenehmem Ambiente und einer angenehmen, kompetenten Moderation. Schön, dass ich die Gelegenheit hatte, dabei sein zu können.