(enthält nicht-bezahlte Werbung aufgrund von Namensnennungen und Produktbildern)
Auch dieses Jahr gab es in Stuttgart das Whisky Festival zu feiern. Die Hausmesse meines (mehr oder weniger) lokalen Händlers, Best Whisky in Stuttgart. Peter Sondheim und sein Team haben
wieder interessante Stationen in den Räumlichkeiten in der Rotenwaldstrasse vorbereitet.
Es war alles vertreten, was Whisk(e)y heißt. Schottland, Irland, Wales, USA, Deutschland und Japan. Schlumberger mit Kavalan, Penderyn, Benromach und Old Perth. Diageo mit Johnnie Walker, den Classic Malts of Scotland und Whiskys aus den Special Releases 2018 (und teilweise noch 2017). Aus den USA Michters und aus Deutschland Finch (und viele, viele weitere).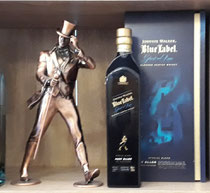 Den Anfang meiner Testreihe macht der Johnnie Walker Ghost
and Rare mit einem Port Ellen. Ganz gut, aber so wirklich
überzeugend fand ich ihn nicht. Der Blue Label Cask Editions,
der daneben stand, steht bei mir höher im Kurs. Später am
Nachmittag hab ich dann noch die neue Abfüllung aus der
Blender's Batch Reihe probiert, den 'Sweet Peat' mit Caol Ila,
Glendullan und Cardhu. Auch der war eher nicht meins.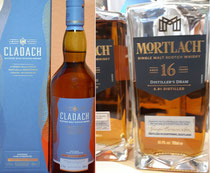 Im Gegensatz dazu war der Cladach, der neue Diageo Blended Malt aus den Special Releases 2018 eine echt leckere Überraschung. Aus meiner Sicht besser gelungen, wie der letztjährige Collectivum XXVIII.
Auch der 16er Mortlach mit Sherry-Finish war recht ansprechend.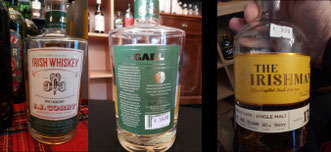 Auch zwei Iren waren im Programm. Ein
J.J.Corry, sehr getreidig, malzig und trocken,
und eine 17-jährige 'The Irishman'-Einzelfass-
Abfüllung aus dem Sherry-Fass.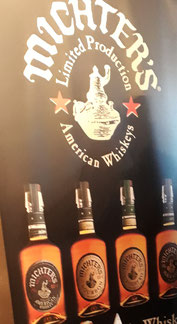 Den längsten Aufenthalt hatte ich am Michter's Stand. Eigentlich ist ja
Bourbon nicht meine große Leidenschaft, aber der Michter's, den ich
bislang kennengelernt habe (Small Batch Unblended American
Whiskey), war mir positiv in Erinnerung.
Probiert habe ich dann erst mal den Rye. Zum Bourbon habe ich mich
dann überreden lassen, nachdem es hieß, er hätte einen hohen Rye-
Anteil (ähnlich, wie der Basil Hayden's, den ich ja ganz gut fand).
Den 10-jährigen Bourbon (der wohl in Wirklichkeit eher 14 – 16 Jahre
alt sein soll) habe ich dann freiwillig noch probiert. Ich war ehrlich
recht angetan. Evt. gibt es hier in absehbarer Zeit dann eine
Verkostungs-Serie zu Michter's.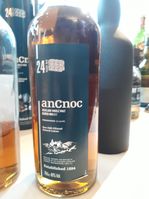 Den Abschluss (mit meinem letzten Rest auf der Wertkarte) machte dann eine Empfehlung von Peter. Ein 24-jähriger anCnoc aus dem Sherry-Fass. Wirklich empfehlenswert.
Hier nun noch ein paar (leider teilweise etwas unscharfe) Impressionen zum Whisky Festival 2018