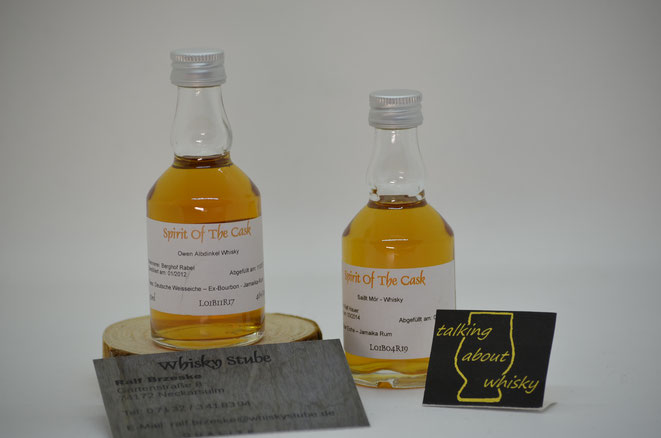 Die Whisky Stube in Neckarsulm mit Inhaber Ralf Brzeske hat sich auf deutschen Whisky spezialisiert und handelt auch damit. Zusätzlich werden hier Whiskys und New Makes aus deutschen Destillerien in eigenen Fässern gereift bzw. nachgereift, ähnlich wie es die Independent Bottler in Schottland oder die Whisky Bonder in Irland machen. Bei einem Besuch vor Ort war ich beim Befüllen eines umgearbeiteten Ex-Laphroaig-Fasses dabei. Als Kostprobe bekam ich die Samples der beiden, hier vorgestellten Whiskys. Ein Whisky aus Owen (Schwäbische Alb) und ein Whisky aus Bad Dürkheim, beide mit Finish in einem ehemaligen Jamaica-Rum-Fass.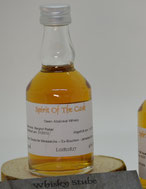 Spirit of the Cask - Owen Albdinkel - Jamaika Rumfass Finish 
46 % Vol. - Single Grain - dt. Weißeiche, Ex-Bourbon, Ex-Jamaica Rum-Fass - nicht gefärbt, nicht kühlgefiltert
Farbe: Bernstein
Aroma: Reife Früchte, Bananen und Ananas. Hefeteig und Vanille. Im Hintergrund zeigt sich Kokosnuss. Mit der Zeit finden sich auch Zitrusaromen. Auch eine leichte Schärfe ist spürbar. Neben der Fruchtsüße zeigt sich auch eine würzige Süße.
Geschmack: Eine herbe Süße im Antritt. Darauf folgt Vanille und reife Banane, unterlegt mit Ingwerschärfe. Würzige Noten kommen in den Vordergrund. Auch eine gewisse Bitternote ist dabei.
Abgang: Der Nachklang ist eher mittellang. In der Hauptsache bleibt die etwas undefinierbare, würzige Süße.
Fazit: Ein recht angenehmer Whisky. Allerdings kann er mich, ebenso, wie der originale Owen Albdinkel Whisky nicht so recht überzeugen. Das könnte durchaus an dem Grundstoff Dinkel liegen, der eine recht eigene Note mitbringt.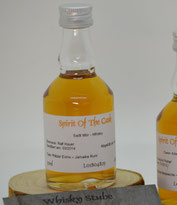 Spirit of the Cask -  Saillt Mór - Jamaika Rumfass finish  
45 % Vol. - Single Malt - Pfälzer Eiche, Ex-Jamaica-Rum-Fass - nicht gefärbt, nicht kühlgefiltert
Farbe: Bernstein
Aroma: Im ersten Moment nussig mit Röstaromen. Dann malzige Noten und Kirschmarmelade. Auch Schokolade und Kaffeetöne finden sich.
Geschmack: Würzige Töne und nussige Aromen.  Dazu Schokoladensüße und dunkle Früchte. . Dann folgen malzige Noten und Vanille. Auch die Röstaromen finden sich wieder. Die Schärfe macht sich nur leicht wärmend bemerkbar.
Abgang: Mittellang bis lang hält sich der Nachklang mit den eher trockenen, nussigen Noten.
Fazit: Schöner, angenehmer, weicher Whisky. Die nussigen Noten gefallen mir gut in Verbindung mit den Röstaromen. Das Rumfass zeigt sich für mich eher verhalten.