(enthält nicht-bezahlte Werbung aufgrund Produktpräsentation )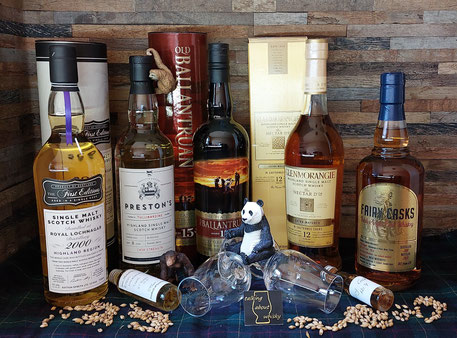 Im Februar habe ich mich ein wenig zurückgehalten, nachdem der Januar so ergiebig war. Neben zwei vergleichsweise günstigen Flaschen aus der Februar-Auktion bei Whiskyauction.com, kamen noch zwei Flaschen aus einem, lange schon wieder fälligen, Besuch bei Peter Sondheim (Bestwhisky) dazu. Den Abschluss für den Februar machte eine irische Fee mit Port-Einfluss.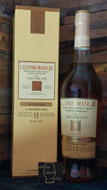 Glenmorangie Nectar d'Òr 2nd Edition 12 Jahre 46 %vol Sauternes Finish 
Ich habe zwar schon einen Nectar d'Or, aber dies ist eine etwas ältere Version davon, die ich über die Auktion erstanden habe.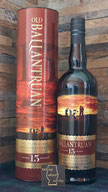 Old Ballantruan 15-year-old The Peated Malt 15 Jahre 50 %vol 
Auch diese rauchige Abfüllung aus dem Hause Tomintoul habe ich aus der Auktion und sogar recht günstig erstanden. Auf den bin ich schon gespannt.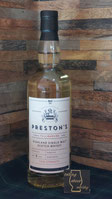 Tullibardine 2010 Beswhisky -  Preston's - Cask Strength 8 Jahre 58,9 %vol Bourbon Barrel
Für mein kleines Experiment mit den Soak Staves habe ich einen Whisky gesucht. Dazu war wieder einmal ein Besuch bei meinem Local Dealer Bestwhisky in Stuttgart fällig. Diese Eigenabfüllung des Händlers darf demnächst in die Fläschchen zu den Holzstückchen.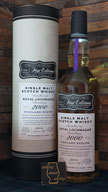 Royal Lochnagar 2000 ED The First Editions 21 Jahre 57 %vol Refill Hogshead
Neben dem Experimentier-Whisky landete auch noch diese Abfüllung in der Einkaufstasche bei meinem Besuch bei Bestwhisky. Wirklich überzeugend, wenn auch nicht ganz günstig, wie so oft bei First Editions.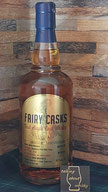 Fairy Casks 2011 Irish Single Grain Whiskey 10 Jahre 62,5 %vol Bourbon & Port Wine Caks
Diese vierte Abfüllung der Fairy Casks Reihe von Mareike Spitzer (irish-whiskeys.de) durfte im Februar auch in mein Regal einziehen. Nach der bisherigen Erfahrung mit den Fairy Casks, wurde die Flasche blind gekauft. Verkostet wird demnächst.