(enthält nicht-bezahlte Werbung aufgrund Produktpräsentation )

Am 27.07.2020 gab es ein Live-Tasting von irish-whiskeys.de mit J. J. Corry Whiskeys. Eingeladen hatte Mareike Spitzer. Als Gast war Louise McGuane von The Chapel Gate Irish Whiskey Company, dem Hersteller der J. J. Corry-Whiskeys. The Chapel Gate Irish Whiskey Company ist der derzeit einzige Whiskey-Bonder in Irland (lt. Irish-whiskeys.de). Ein Whiskey-Bonder destilliert keinen eigenen Whisky. Er kauft Whiskey bei verschiedenen Destillerien, reifen und finishen diesen in eigenen Lagern und füllen diesen unter eigenem Label ab bzw. kreieren eigene Blends. Das Bonding war früher eine gängige Methode der Whiskey-Herstellung in Irland. J. J. Corry selbst war in den 1890ern ein bekannter Whiskey-Bonder in Irland (weitere Informationen dazu findet Ihr auf der Homepage von J. J. Corry - lesenswert)
In diesem Live-Tasting wurden drei Abfüllungen von J. J. Corry verkostet:
- J. J. Corry The Hanson Batch 1 
- J. J. Corry The Gael Batch 2
Samples der Abfüllungen konnten im Vorfeld bei Mareike bestellt werden. Ich habe meine Fläschchen zusammen mit einer Flasche des neuen The Cross mitbestellt.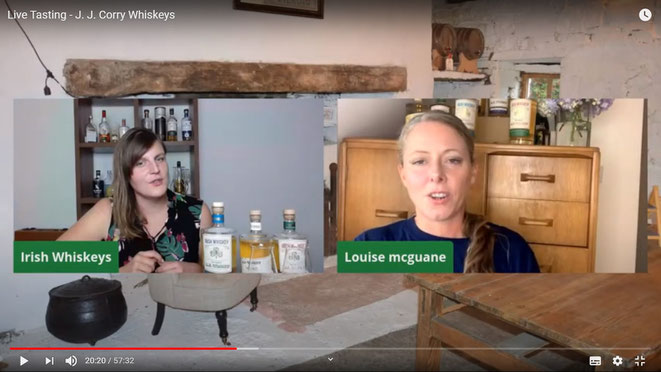 J.J. Corry The Hanson Batch 1
The Hanson ist benannt nach dem Schwiegesohn von J. J. Corry. Es ist ein Blend aus drei Grain Fässern von verschiedenen Destillerien. Die Mischung besteht zu 70 % aus 10-jährigem Whiskey aus 2nd und 3rd-Fill Ex-Bourbonfässern und zu 30 %  aus 4-jährigem Whiskey aus 1st-Fill Ex-Bourbonfässern (Tennessee Whiskey, Jack Daniels). Er soll in das Grundsortiment der Marke aufgenommen werden. Das erste Batch umfasste 800 Flaschen.
46 % Vol. - Blended Grain Irish Whiskey - Ex-Bourbonfässer -nicht gefärbt, nicht kühlgefiltert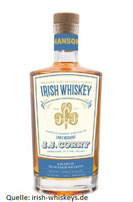 Farbe: Weißwein
Aroma: Deutliche Vanillenoten, etwas frisches Holz und helle Früchte. Kandierte Nüsse und zarte Röstaromen. Mit der Zeit kommen Ingwertöne dazu.
Geschmack: Wieder die Vanille im Antritt zusammen mit würzigen Noten. Auch etwas dunklere Schokolade zeigt sich auf der Zunge. Je länger er im Glas ist, desto stärker kommt die Würze durch.
Abgang: Der Nachklang ist eher mittellang und eher süß.
Fazit: Ein wunderschöner Easy-Sipper. Hell, leicht und süß-würzig. Perfekt für den Sommer.
 J. J. Corry The Cross No. 1
The Cross ist ein Blended Whiskey aus verschiedenen irischen Destillerien, sowohl alten, wie auch neuen. Das Interessante daran ist das Zusammentreffen von Whiskeytradition und Innovation. Die Reifung erfolgte in drei Ex-Bourbonfässern. Dazu kommt ein Finish in einem Bier-Fass, in dem zuvor das Blue Jumper IPA von Western Herd gelagert war. Ich habe mir gleich bei Erscheinen im Juli 2020 eine Flasche gesichert. Die Abfüllung war recht schnell ausverkauft.
43 % Vol. - Blended Irish Whiskey - Ex-Bourbonfässer und Ex-IPA-Bierfass - 102 Flaschen - nicht gefärbt, nicht kühlgefiltert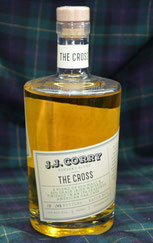 Farbe: Gold
Aroma: Helle, leicht säuerliche Früchte. Grasige Töne und etwas weißer Pfeffer. Die aufkommende Süße erinnert mich ein wenig an Stevia und an tropische Früchte. Auch etwas Aprikose ist dabei.
Geschmack: Eine recht würzige Süße, gepaart mit einer durchaus angenehmen, leicht wärmenden Schärfe. Herbe Aromen tauchen auf. Der Eindruck wird trocken. Etwas Karamell ist dabei.
Abgang: Die Tendenz geht gegen lang. In der Hauptsache bleibt es würzig mit einer Idee Karamell.
Fazit: Sehr interessanter Tropfen. Eher nichts für Jedermann und jeden Tag, aber wunderschön, wenn man sich darauf einlässt.
J. J. Corry The Gael Batch 2
The Gael ist ein Blended Irish Whiskey. Er ist zusammengestellt aus 28-jährigem Single Malt aus einem ehemaligen Sherry Hogshead (4 %),  13-jährigen Single Malt (30 %), 17-jährigem Single Malt (26 %) und aus 9-jährigem Single Grain Whiskey (40 %).
The Gael ist nach einem Fahrrad benannt, dass der Whiskey Bonder J.J. Corry in den 1890ern erfunden hat.
Auch das Batch 1 des The Gael hatte ich schon probiert, 2018 auf der Hausmesse bei Best Whisky. Auch damals konnte er mich schon überzeugen. Seit April diesen Jahres steht eine Flasche des Batch 2 in meinem Schrank.
46 % Vol. - Blended Irish Whiskey - Ex-Bourbonfässer, Sherry Hogshead - 2800 Flaschen - nicht gefärbt, nicht kühlgefiltert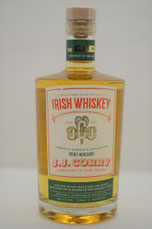 Farbe: Helles Gold.
Aroma: Malzige Süße, Rosinen, reife Früchte. Dazu mürbe Kekse und ein wenig Schokolade. Mit der Zeit tauchen hintergründig noch ein paar florale Noten und eine leichte, treibende Schärfe auf.
Geschmack: Es beginnt mit einer trockenen, malzigen Süße; Nüsse und Vanille. Dann kommt eine holzige Würze, immer noch recht trocken im Aroma. Trotzdem ist das Mundgefühl recht fein und cremig. Je länger der Whiskey im Glas ist, desto kräftiger werden die würzigen Aromen. Aber auch die Süße bleibt präsent.
Abgang: Würzig und wärmend verweilt der Whiskey lange im Mundraum und füllt jeden Winkel aus. 
Fazit: Dieser Whiskey gefällt mir außerordentlich gut. Sowohl aromatisch, als auch preislich eine absolute Empfehlung.
Zusammenfassend kann ich sagen, dass alle drei verkosteten Whiskeys absolut lecker waren. Eine Reihenfolge zu bilden, ist nicht ganz einfach, da es drei recht unterschiedliche Abfüllungen sind. Aber letztendlich ist für mich der The Gael ganz vorne, gefolgt von den IPA-Finish. Der Hanson beschließt den Reigen.